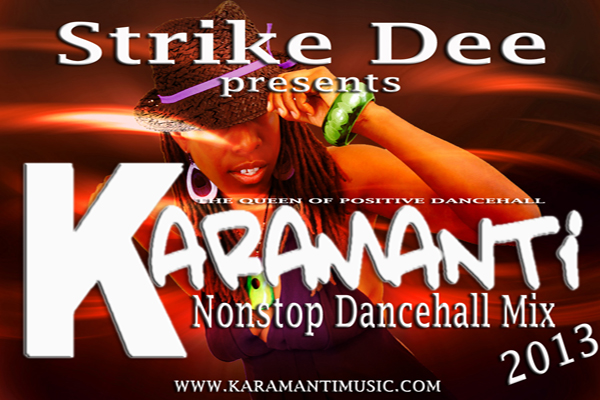 A brand new mixtape straight out of Jamaica from DJ Strike Dee and super positive female Dancehall artist Karamanti, that will be traveling shortly toward Europe at the end of April and beginning of May so stay tuned here for her upcoming tour dates.
Karamanti is a powerful song writer, singer, singjay, producer, video maker, a very productive and prolific Jamaican female artist that also helps other artists, writes a blog, manages other Jamaican artists and aso finds time to tour around the world, bringing her music and her energy to fire up the places.
Let this powerful Jamaican female artist amaze you and get to know her music in the mix posted below.
Download Karamanti new mixtape Non Stop Dancehall 2013 and check the track listing below.
LISTEN OR DOWNLOAD DJ STRIKE D – KARAMANTI – NONSTOP DANCEHALL MIXTAPE 2013
DWNLD KARAMANTI MIXTAPE LINK 1
KARAMANTI NON STOP DANCEHALL MIXTAPE 2013 TRACK LISTING 
1. KARAMANTI -WHO YOU ARE
2. KARAMANTI - AFRICAN SONG
3. KARAMANTI - NOBODY CYAAH STOP WE {FT} 3 STAR
4. KARAMANTI -STAY TRUE-HEART STRINGZZZ
5. KARAMANTI -BAY BADNESS
6. KARAMANTI - RIGHT NOW
7. KARAMANTI - READ
8. KARAMANTI - YU CAN DWEET
9. KARAMANTI - JAMDOWN WE SAY
10.KARAMANTI - DON'T IT!
11.KARAMANTI -YOUR THING DAT
12.KARAMANTI -SET THE TREND
13.KARAMANTI - THIS MI A DO
14.KARAMANTI - MY BABY
15. KARAMANTI -WATS POPPIN PEOPLE
16. KARAMANTI -X – FACTOR {FT} STONEBWOY BURNITON
17. KARAMANTI - THE TRIBUTE SONG
18. KARAMANTI- REAL STORY
19. KARAMANTI - GONE UP
20.KARAMANTI - FREE TONIGHT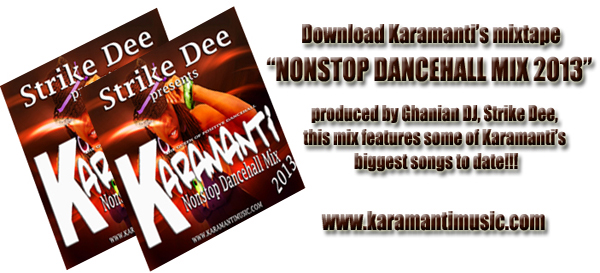 real deal