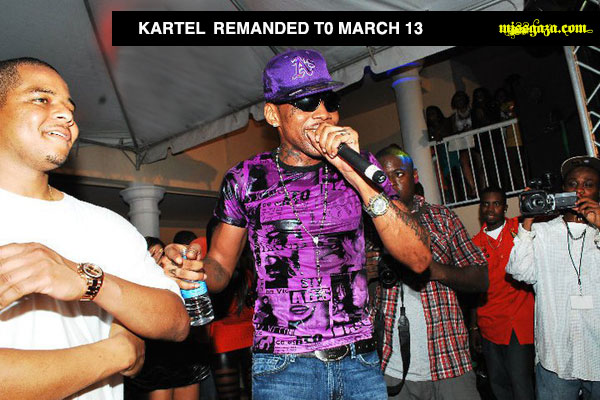 Check out the latest news and updates on Jamaican artist Vybz Kartel and his two co-accused,they were today remanded into custody again when they appeared in court in relation to the murder of Barrington 'Bossie' Bryan from St Catherine, last July.
They have been remanded until March 13 when they will appear again in the Gun Court Division of the Corporate Area Resident Magistrate's Court.
Charged with Vybz Kartel are Nigel Thompson and Lenburgh McDonald. Kartel, real name Adidja Palmer, is on $3 million bail in relation to that charge but was remanded as he is facing other charges including murder, conspiracy to murder and perverting the course of justice. Latest rumors are that Snoop Dogg, currently in Jamaica, will take a trip to the Horizon Remand Centre to visit Addi.
Re-posting some of the latest Vybz Kartel songs that are quickly ranking thousands of views worldwide on youtube.As usual Kartel keeps it real and current so his fans will be specially touched by Forgive Me.
Listen To Vybz Kartel Song – Forgive me – Pearl Riddim



Since his arrest many music artists express their support to Vybz Kartel's situation, with music and lyrics, among the most touching and played songs that are a tribute to the Gaza General the songs posted below are some of the best released at this time.
Vybz Kartel is an artist that recorded with many other deejays and artists also oversea so his fans of can aspect more artists to sings a tune pro Addi's freedom. In the meantime listen to the #freeWorldBoss songs posted below.
Listen To Vybz Kartel feat Dwayno Don Don A Road

On Dallacoin Riddim

Listen To Tommy Lee On Hiroshima Riddim

for di Addi

Hear Me Cry



Watch Nuffy – Muss Cum A Road – Free Vybz Kartel on Gripe Water Riddim- Fedda Weight Production
real deal