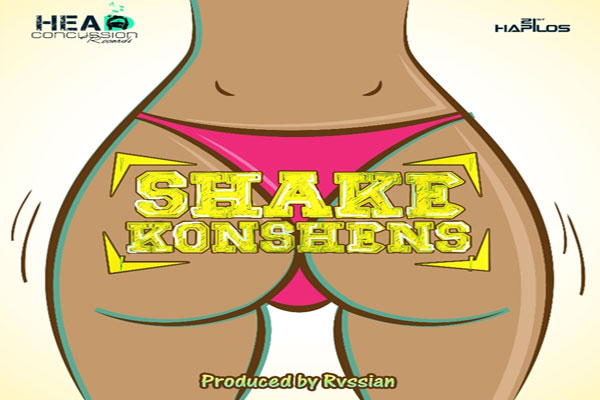 Fresh from an electrifying performance on the late night talk show "Arsenio Hall Show", and busy with worldwide performances, international dancehall star Konshens still finds the time to deliver hit music such as his latest "Shake".
The single was produced by Russian, founder of one of the hottest Jamaican production label, Head Concussion Records.
Konshens new single Shake is distributed by digital giants 21st Hapilos Digital, and is also  now available on iTunes, grab it clicking on the banner on this page.
Jamaican dancehall reggae singer Konshens became an international superstar almost immediately after bursting onto the music scene in 2005. Born Garfield Spence in Kingston in 1985, he claims Beres Hammond as his primary musical influence, and his vocal style is strong and confident yet smooth and melodic.
Jamaican dancehall reggae artist Konshens once again proves his musical versatility and delivers a new hit bound single for his new and old fans that will make you and your friend Shake it from head to toe. Built on a contagious and hypnotic riddim with a unmistakable latino flavor to it, called Rvssian Riddim, World Boss Vybz Kartel, even if behind bars, also has voiced a dope song on it called "Mamancita" featuring J Capri, you can listen to it clicking here.
A force to reckon with in Jamaican dancehall reggae music and with an always growing international fan base Konshens scores once again big with this new single Shake. Listen below and watch the official music video posted after the audio.
GET THE FULL RVSSIAN RIDDIM OR JUST YOUR FAVORITE SONG ON IT CLICKING ON THE ITUNES BANNER ON TOP OF THE PAGE. SUPPORT JAMAICAN DANCEHALL MUSIC!
WATCH KONSHENS NEW DANCHEALL OFFICIAL MUSIC VIDEO SHAKE – PRODUCED BY RUSSIAN – HEAD CONCUSSION MUSIC MARCH 2014

real deal