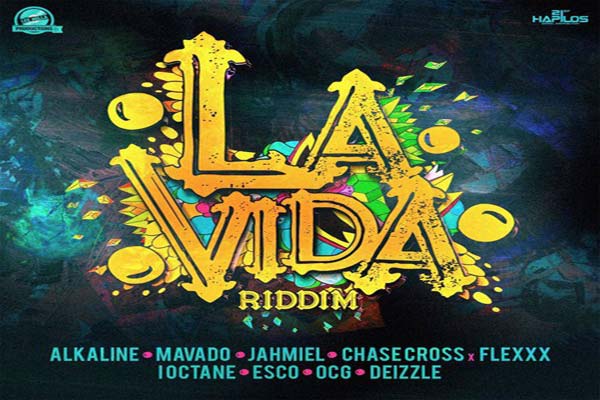 Tune in to a new hot dancehall riddim that features the latest hits from Alkaline, Mavado, I-Octane,Jahmiel,Esco  & more Jamaican recording artists, called La Vida Riddim.
Produced by Lee Mill Records La Vida Riddim boasts some of the hottest Jamaican dancehall artists right now like Alkaline, with his latest song Red Eyes, in both raw and clean version, Deizzle Jahmiel Mavado and I-Octane.
Mavado doubles up on the riddim, with one song solo and one new collabo with Flexx and Chase Cross.
Alkaline's latest song – Red Eyes has been already named as a Tommy lee Sparta's diss from the Vendetta Deejay that used Sparta's eyes in the cover of the song, upsetting Uncle Demon and his fans that took it to social media  where they vented their annoyance on  the topic.
Listen below to the full Milla Nina La Vida riddim Mix and check the track listing, download a promo zipped version of the full riddim following the link below.
LISTEN TO LA VIDA RIDDIM MIX – MILLA NINE RECORDS – JUNE 2017

DWNLD LA VIDA RIDDIM FULL PROMO
LA VIDA RIDDIM  MILLA NINE RECORDS TRACK LISTING
01 – Alkaline – Red Eyes (Raw)
02 – Alkaline – Red Eyes (Clean)
03 – Deizzle – Thumbs Up (Raw)
04 – Deizzle – Thumbs Up (Clean)
05 – Esco – Photo Shoot
06 – Ocg – Professional (Raw)
07 – Ocg – Professional (Clean)
08 – I-Octane – Level To This
09 – Jahmeil – Big Moves
10 – Mavado – Laugh & Gwan
11 – Mavado Ft. Flexxx & Chase Cross – Money A The Topic
12 – Lee Milla Productions – La Vida Instrumental
real deal