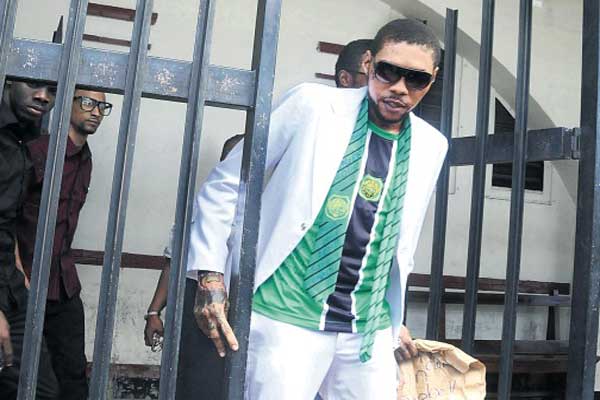 Check out the latest news regarding World Boss Vybz Kartel and co-accused court case as for March 2015.
One of the jurors who served in the Vybz Kartel murder trial, Dennis Brown, admitted yesterday that he "works" with the Jamaica Defence Force (JDF). 
Brown made the admission in the Corporate Area Resident Magistrate's Court as he gave evidence in the corruption trial of Livingston Cain, the juror accused of trying to bribe his peers to return not guilty verdicts in the Kartel case.
At the same time Cain's attorney, Valerie Neita-Robertson, also suggested that another man who "works" with the JDF – identified in court as Gutzmore Lord – and the wife of a police inspector, were also part of the Vybz Kartel jury that planned an after verdict party while the trial was still ongoing..
Under the Jury Act, officers and non-commissioned officers as well as regular and reserve members of the JDF are barred from serving as jurors.
Cain, who is a football coach, is on trial for six counts of perverting the course of justice and one count of conspiring to pervert the course of justice. He will continue giving evidence when the trial resume today.
Is it true that Brown and other jurors planned an after verdict party during the trial?
Could the fact that some of the jurors involved in Vybz Kartel's trial are compromised and they could have not judged Addi and co-accused, re-open the trial quicker and speed up the appeal? Doesn't Kartel deserve a fair trial like any other human being? Of course he does and soon  we al should see how tbe case could be positively affected by these new circumstances, meanwhile Magistrate Maxine Ellis, in the 'Kartel juror' trial has barred the media from publishing the names and place of work of the jurors who are to testify in the matter.
VYBZ KARTEL – PROTECT ME – OMV – DUNWELL PROD -XTREME ARTS MARCH 2015
real deal