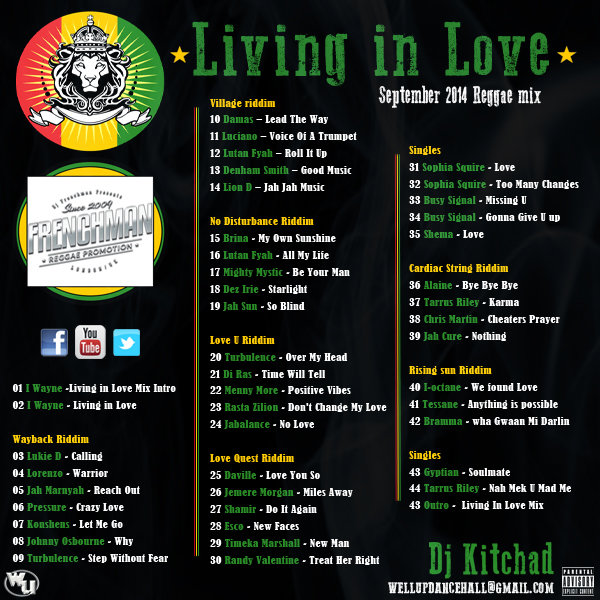 Wha gwaan Rastas!


Stream or download

some sweet reggae music and some top reggae songs & reggae riddims for your meditation.
Brought to you by DJ Kitchad and released toward the end of September, listen below to Living In Love Reggae Mixtape 2014.
DJ Kitchad "Live In Love Mixtape" includes the Way Back Riddim, Village Riddim, Disturbance Riddim, Love It Riddim, Love Quest Riddim, Rising Sun Riddim as well as a bunch of positive reggae singles.
THIS BLAZING REGGAE MIXTAPE IS AVAILABLE FOR FREE LISTENING AS WELL AS FREE DOWNLOAD IN MP3 FORMAT SO YOU CAN REPLAY YOUR FAVORITE SONG IN YOUR OWN DEVICE!
Some of the Jamaican reggae dancehall artists featured in Live In Love Reggae mixtape are
Da'ville, Esco, Konshens, Lutan Fyah, Luciano, Lion D, Pressure, Tarrus Riley, Jah Cure
and many more. check track listing posted above.
DWNLD DJ KITCHAD LIVE IN LOVE REGGAE MIXTAPE 2014
STREAM OR DOWNLOAD DJ KITCHAD LIVE IN LOVE REGGAE MIXTAPE 2014
Dj Kitchad – Living In Love Mixtape by Dj Kitchad on Mixcloud
real deal