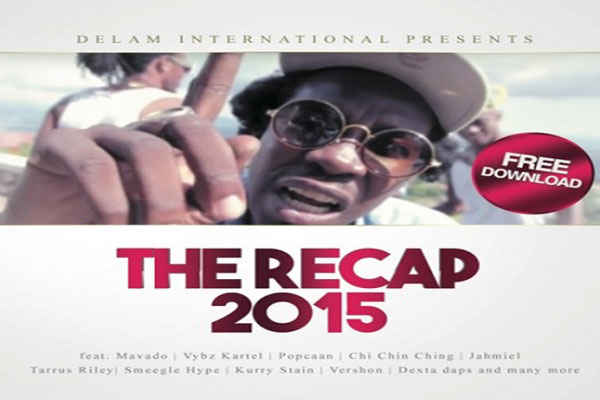 LISTEN TO OR DOWNLOAD MP3 OF THE BEST REGGAE DANCEHALL MUSIC FOR FREE BELOW A NEW DANCEHALL MIXTAPE FEATURING SOME OF THE BIGGEST DANCEHALL SONGS,RIDDIMS & ARTISTS OF 2015.
CHECK OUT THE SOUND OF DELAM INTL, OUT OF BERLIN GERMANY, DELIVERING A REGGAE DANCEHALL MIXTAPE, TITLED  - THE RECAP 2015 – THAT FEATURES  ALL THE BIGGEST SONGS, RIDDIMS AND ARTISTS THAT HAVE BEEN TRENDING  FROM THE BEGINNING TO THE END OF 2015.
BOASTING SOME OF THE BEST REGGAE DANCEHALL SONGS OF 2015 INCLUDING VYBZ KARTEL, MAVADO, POPCAAN, CHIN CHING,ALKALINE & MORE OF YOUR FAVORITE JAMAICAN ARTISTS, THIS MIXTAPE IS MUST HAVE THAT RECAPS  ALL THE HEAVY HITS & CLASSIC JAMAICAN ANTHEMS OF 2015.
INTRO & JINGLES BY  UPCOMING ARTIST SMEEGLE HYPE
CHECK THE TRACK LIST & STREAM OR DOWNLOAD THE RECAP 2015 IN THE SOUND CLOUD PLAYER POSTED BELOW.
STREAM – THE RECAP 2015 – DANCEHALL MIXTAPE- DELAM INTL
THE RECAP 2015 – DANCEHALL MIXTAPE TRACK LISTING
CHI CHING FT. POPCAAN – WAY UP STAY UP
TARRUS RILEY FT. ZAGGA – FREE UP
VYBZ KARTEL – MI NUH TRUST PEOPLE
ALKALINE – A BAGGA TINGS
MAVADO – NAH USE DEM
MAVADO – RUP RUP TO MI HATERS – KELLA & DELAM REFIX
POPCAAN – BAD INNA REAL LIFE
DEXTA DAPS – SHABBA MADDA POT
MUNGA – PUSH DEM OUT
MAVADO – TRUE
KURRY STAIN – SKY PREE
CHI CHIN CHING – PARTY NICE
SMEEGLE HYPE – RAVING ALL DAY
SMEEGLE HYPE – RAVING ALL DAY – DUBPLATE
POPCAAN – WEED IS MY BEST FRIEND
CHI CHIN CHING – NAH GO HOME
VYBZ KARTEL – PARTY
ALKALINE – UP
MAVADO – MY LEAGUE
CHI CHIN CHING – COOB DEM UP
POPCAAN – SLAP ROUND DEH
AIDONIA – NO MAN TO MI SPLIFF
ALKALINE - LIVING IT UP
VYBZ KARTEL – PARTY ON – JUGGLERZ REMIX
I-OCTANE – DON´T STOP THE VIBES
VANESSA BLING – FUTURE GUARANTEED
OMI – CHEERLEADER
VYBZ KARTEL – DANCEHALL
DON ANDRE – TOM CRUISE
DING DONG – GAS
CAPLETON Feat GABBIDON – GIMMI WAY

BLING DAWN – AJI BOUNCE


CHI CHIN CHING X HARD FI DEAL WID

– WATCHI WYAH


GULLY BOP

– KILL DEM WID STYLE


MAVADO

– HIDE AND SEEK


VYBZ KARTEL

– WHO TRICK HIM


VYBZ KARTEL – STRAIGHT & ARROW




MAVADO

– GUETTO BIBLE
ALKALINE
– NUH LIKE PEOPLE
VYBZ KARTEL
– WICH LEAGUE
MAVADO
– BLOOD MOON
MAVADO
– BAD ANYTIME
VYBZ KARTEL
– FIX UP
VYBZ KARTEL
– POUND OF RICE
VYBZ KARTEL
– PRESSURE
MAVADO
– HISTORY
POPCAAN
– WAY UP
ALKALINE
– WHEY YUH HAVE
MAVADO
– UP LIKE 7
MAVADO
– SHADOW
VYBZ KARTEL
– STOP FOLLOW ME UP
POPCAAN
– MY GOD
ZAGGA
– LIFE WE LIVE
SPOOKIE
– NAH SELL OUT
POPCAAN
– BABY (TESTIFY)
DEXTA DAPS
– 7 ELEVEN
CHRIS MARTIN
– I´M A BIG DEAL
VERSHON
– INNA REAL LIFE
TARRUS RILEY
– MY DAY
CHRONIXX X KABAKA PYRAMID
– MI ALLRIGHT
VERSHON
– WATCH YUH SELF
JAHMIEL
– TRUE COLORS
VERSHON
– USED TO HUNGRY
JAHMIEL
– GAIN THE WORLD
POPCAAN
– UNRULY PRAYER
real deal