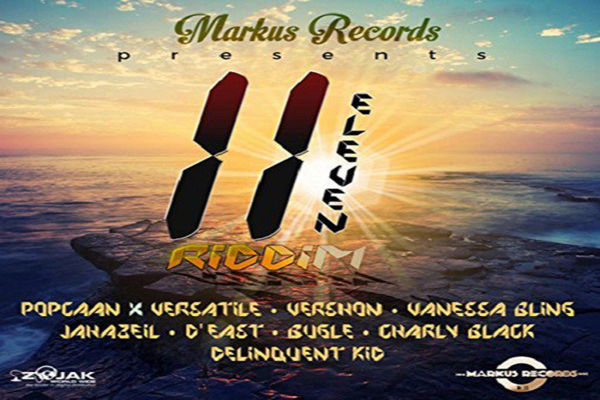 Buju Banton 's Son, owner of Markus Records released a super loaded dancehall reggae riddim called 11 Eleven riddim.
Featuring a great line up of Jamaican artists including former Gaza members Popcaan, in a collaboration song with his chargie Versatile, Vanessa Bling formerly known as Gaza Slim, Vershon, Versatile, Charly Black, Bugle and more top ranking music artists from JamRock.
Listen to the full 11Elever Riddim Mix and and check the full track listing for the riddim posted below.
11 Eleven Riddim is packed with songs with social commentary, Vanessa Bling is singing how much she love her life in a new empowering and catchy song, Popcaan and Versatile deejay for the ghetto youths.
Already available on iTunes for digital purchase you can get 11ELeven full riddim or just your favorite song featured on it clicking on the iTunes banner in this page.

Listen To 11 Eleven Riddim Mix March 2017 (Markus Records) Mix by Djeasy
1. Vanessa Bling – I Love My Life
2. Vershon – Tree Stump
3. Jahazeil Myrie – Real
4. Charly Black – Speaking Out
5. Popcaan ft. Versatile – Gwaan Out Deh
6. D'East – Shoulda Deh Yah
7. Delinquent Kid – Here We Go
8. Bugle – Stay Round Suh
9. 11 Eleven Riddim – Markus Records
real deal