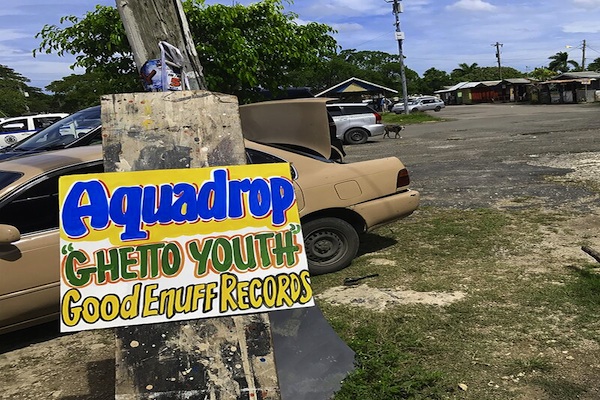 After making a name for himself in the bass scene amongst tastemakers including Diplo, DJ Snake, Skrillex and more, Aquadrop unveils his latest single "GHETTO YOUTH" via Mad Decent's Good Enuff.
As a skittering blend of trap, rock, reggae and dubstep, "GHETTO YOUTH" is quintessential of Aquadrop's crossover sound.
Aquadrop Is An Electrifying Voice For "GHETTO YOUTH" On New Single Out October 11 Via Good Enuff
[My youths this is some different type of sound, get some crazy electric noises in your daily dancehall routine. There are many ways to talk to the Ghetto Youths and Aquadrop delivers a clear message he is Ghetto Youth, down with the Ghetto Youths NOT the politicians.Pay attention and you can hear dancehall, dubstep and reggae influences in his sound. Putting it in another way not even electronic music is immune from Jamaican influences. Worldwide. Zeen.]
Hailing from Milan, Aquadrop is no stranger to globally buzzworthy hits. His track "FAVELAS" was famously flipped by RL Grime in 2013 and remains a staple in trap sets everywhere. The artist has had previous releases out on Universal Music, Armada, Mad Decent, Dim Mak, Ultra Music, Buygore, Do It Yourself, Main Course, Top Billin, Trap and Bass and Wiwek's Rimbu.
Back in 2012, Aquadrop gained significant notoriety when his track "BACK AND FORTH" became the soundtrack to GoPro's viral Owl Dance-Off video which clocks in at over 7.7 million views to date. Aquadrop also sports sound design credits for Arena, Custo Barcelona, Diesel, Discovery Channel, Forever 21, GoPro, GoodYear, Le Coq Sportif, MVMT, Nivea, Real Madrid and T-Mobile, showing his music's ability to remain innovative while appealing to a mainstream audience.
Back in 2015, Aquadrop cemented his status as a multi-talented artist with a guest mix on Diplo's radio show "Diplo & Friends" via BBC Radio 1XTRA. He continues his longstanding success with Mad Decent via his new single "GHETTO YOUTH."
Stream Aquadrop's new single now, available everywhere October 11
STREAM AQUADROP GHETTO YOUTH – GOOD ENUFF

real deal