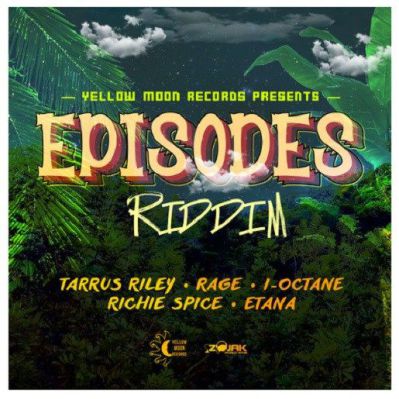 Listen to a new reggae dancehall riddim produced by famed Jamaican music label Yellow Moon Records and titled Episode Riddim.
Episode riddim
is already available on
iTunes
and you can get it click on the banner below
Another big release from the veterans at
Yellow Moon, Episode Riddim
is a vibrant new r
eggae riddim
that features songs from veteran
Jamaican recording artist Richie Spice, Conquer The Globe artist I-Octane, veteran reggae deejay Tarrus Riley,
 sporting also a
females voices,
with
Etana The Strong One
voicing a song titled
"Green Card"
and
 Rage .
Check the full track listing for Episode riddim and stream the full mix below. Support Jamaican reggae music, artists and producers and purchase your favorite song or the whole riddim.
Listen To Episodes Riddim Mix Tarrus Riley, Richie Spice, Etana, I-Octane [Jamaican Reggae Music 2018]



Episodes Riddim Track Listing
Richie Spice – Revelation
I-Octane – Why Should I
Tarrus Riley – Ah Me and Jah
Etana – Green Card
Rage – I Am Not a Lonely Girl
Yellow Moon Records 2018
real deal