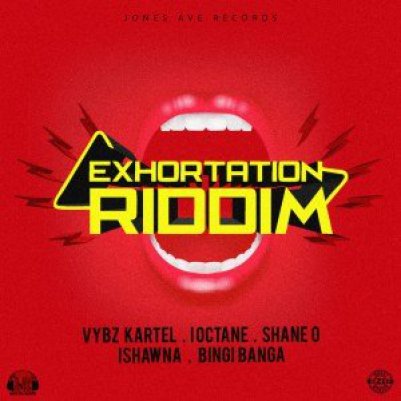 Made popular by one of Vybz Kartel's latest single, Thank You Mama that headlined it, Jones Ave Records released the full Exhortation Riddim.
While you can listen to Kartel's single "Thank You Mama" and check the full lyrics clicking here, listen to Exhortation Riddim full mix posted below, that features new songs also from Jamaican dancehall artists i-Octane, Ishawna and Shane O.
While incarcerated dancehall superstar Kartel created interested around the riddim with his new tribute song to his mama, I-Octane addresses rumors and speculations about his persona put out by Khago in recent days trying to expose the Conquer The Globe artist. Before jumping to I-Octane's throat listen to his single Dem Vex, while Ishawna deejays about an Instagram Boy, Shane O goes after the Ungrateful with his new song.
A big household name in reggae dancehall music Jones Ave Records released a well rounded good riddim that you can get clicking on the Itunes banner on this page.
Listen to the full Exhortation riddim mix posted below and check the track listing, get the full riddim or just your favorite one via iTunes, so you can support artists and producers that went to work on it.
Listen To Exhortation Riddim Mix Featuring Vybz Kartel I-Octane Shaneo Ishawna Jones Ave Records
real deal