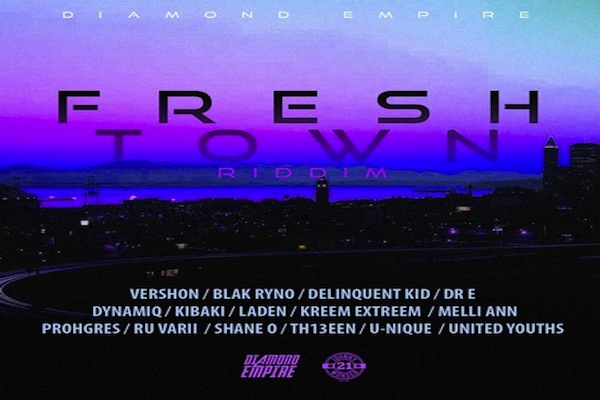 A string of new fresh music from some of your favorite Jamaican dancehall reggae artists is featured in the latest Fresh Town Riddim produced by Diamond Empire.
Featuring the latest songs from Blak Ryno, Vershon, Laden, Kibaki, Delinquent Kid and many more Jamaican recordings artists like Shane O, Prohgres, Kibabi and many more other artists, Fresh Town riddim features a total of 20 dancehall reggae tracks from many different Jamaican recording artists.
Check the full track listing posted after the audio with titles of all the songs and all the artist's names performing on the Fresh Town Riddim you can either play the mix or each song in the playlist. Available for promo download you can purchase Fresh Town riddim in better quality clicking on the iTunes banner posted on this page.
STREAM FRESH TOWN RIDDIM MIX 2018
STREAM FRESH TOWN RIDDIM 2018 DIAMOND EMPIRE  [JAMAICAN DANCEHALL REGGAE MUSIC 2018 PLAYLIST]
FRESH TOWN RIDDIM  TRACK LIST
01 – Blak Ryno – Weh Me Do You (Raw)
02 – Blak Ryno – Weh Me Do You (Clean)
03 – Delinquent Kid – Gallis
04 – Dr E – I Like Your Flavour
05 – Dynamiq – Bring It Come (Raw)
06 – Dynamiq – Bring It Come (Clean)
07 – Kreem Extreme – Watch Me Wine
08 – Kibaki – Pretty Smart
09 – Laden – One In A Million (Raw)
10 – Laden – One In A Million (Clean)
11 – Melli Ann – Your Love
12 – Prohgres – Precious Gift
13 – Ru Varii – Away
14 – Shane O – Jail Song (Raw)
15 – Shane O – Jail Song (Clean)
16 – Th13een – Mind You Business
17 – U-Nique – I Like Ur Style
18 – United Youth – These Eyes
19 – Vershon – Girl Wine (Raw)
20 – Vershon – Girl Wine (Clean)
21 – Kyle Boney – Fresh Town Riddim (instrumental)
real deal