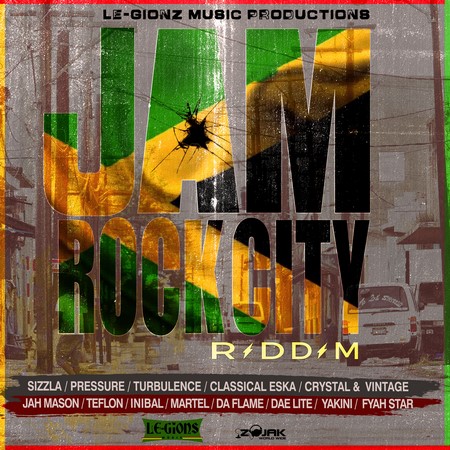 2018

just started and good music has already been coming out! Ease your ears with some authentic, original and vibrant Jamaican reggae dancehall music for a fresh and blessed start of the year, with the JamRock City riddim, produced by Le-Gions Music.
And what a great jam indeed! The Jamrock City Riddimis a big new riddim that features a stellar line up of reggae dancehall artists such as: veteran Sizzla Kalonji, Pressure, Turbolence, Jah Mason and Teflon, all delivering great songs and also new and upcoming Jamaican recording artists.
Stream the full JamRock City Riddim mix, check the track listing with all the songs titles and artists names, and get the promo download clicking on the button below.
To get just one of your favorite songs on it, or to purchase the full JamRock Riddim click on the iTunes banner on this page to get it in a higher quality. Support the good music!Support the artists and producers by purchasing the full high quality release!
Listen To JamRock City Riddim Mix (Full) Feat. Sizzla, Pressure, Jah Mason, Turbulence, (January 2018)
 JAMROCK CITY RIDDIM MIX TRACK LISTING
1. SIZZLA – TIME TO WAKE UP
2. PRESSURE BUSSPIPE – ROUN YAH
3. CLASSICAL ESKA – STEP IN THE STREET
4. TURBULENCE – HAILE-FAR-I
5. ININBAL – YARDIE
6. CRYSTAL AND VINTAGE – CALL IT BY NAME
7. JAH MASON – JAH CHILDREN
8. TEFLON – NUH WEH
9. MARTEL – LOVE IN THE CITY
10. DA FLAME – LYRICALLY BAD
11. DAE LITE – RUDE BOY STEPPIN
12. YAKINI – TELL YUH BOUT PEOPLE
13. FYAH STAR – GANGSTA LIFE
14. LE-GIONZ MUSIC PRODUCTIONS – JAMROCK CITY RIDDIM INSTRUMENTAL
real deal