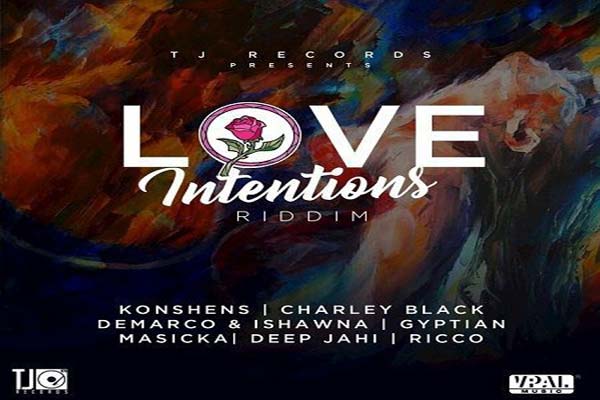 Vibe to a new dope dancehall reggae riddim for this Summer 2017, titled Love Intentions Riddim and produced by Jamaican music label Tj Records.
Boasting a great line up of Jamaican stars including Gyptian, Demarco & Ishawna, Konshens, Masicka, Deep Jahi, Charly Black and more top Jamaican artists "Love Intentions riddim" features some big reggae dancehall songs from some of your favorite Jamaican artists.
Check the full track listing for Love Intentions riddim posted below and listen to the full mix.
Tj Records Love Intentions riddim is now available on iTunes clicking on the banner on this page.
Listen To Love Intentions Riddim Mix – TJ Records
Love Intentions Riddim Track Listing TJ Records
01 – Konshens – Mating Call (Raw)
02 – Konshens – Mating Call (Clean)
03 – Charly Black – Love Intentions (Raw)
04 – Charly Black – Love Intentions (Clean)
05 – Demarco & Ishawna – Nice
06 – Gyptian – Touch Your Body
07 – Masicka – Living A Lie (Raw)
08 – Masicka – Living A Lie (Clean)
09 – Deep Jahi – Hide (Raw)
11 – Deep Jahi – Hide (Clean)
12 – Ricco – Heartbeat
13 – TJ Records – Love Intentions Riddim
real deal