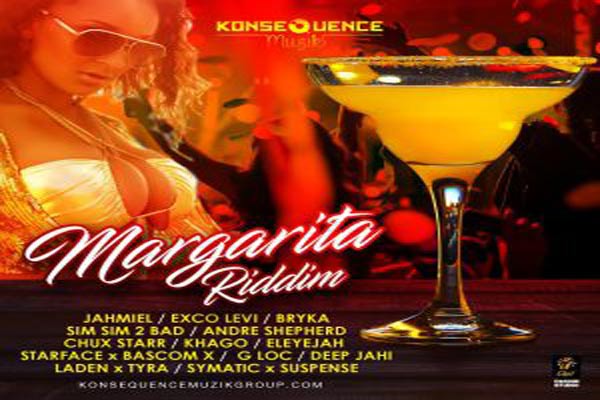 Vibe to a big reggae dancehall riddim for the month of June 2017 titled Margarita Riddim, produced by Konsequence Muzik.
Featuring some x-rated dancehall reggae love songs from top Jamaican recording artists like Jahmiel, Khago, Laden Ft. Mink Jo Aka Tyra, Brika, Esco Levi, Star Face, Deep Jahi and the list goes on, Margarita riddim is an explicit riddim that sports songs about sex and uses explicit words on a very soft and sweet riddim.
Margarita riddim is hot like fire sporting some of the biggest dancehall hits of this Summer 2017, stream the full Margarita Riddim Mix and check the track listing posted below together with promo download link.
LISTEN TO MARGARITA RIDDIM MIX – TOP SUMMER DANCEHALL REGGAE HITS 2017

MARGARITA RIDDIM TRACKLIST
JAHMIEL – MY ATTENTION
KHAGO – IT HAVE MI (RAW)
LADEN Ft. MINK JO AKA TYRA – TIGHT IN SIZE (RAW)
G LOC – BEND OVER {RAW}
ELEYEJAH – BADDEST FUCK (RAW)
SIM SIM 2 BAD – FED UP (RAW)
SYMATIC FT SUSPENSE – WEH ME WOULD A DO {RAW}
STARFACE FT. BASCOM X – LIKE YOU (RAW)
ANDRE SHEPHERD – PHONE CALL
CHUX STARR – HOBBY
BRYKA – LINK ONCE MORE
DEEP JAHI – FIGHT WITH A SMILE
EXCO LEVI – FACE MASK
real deal