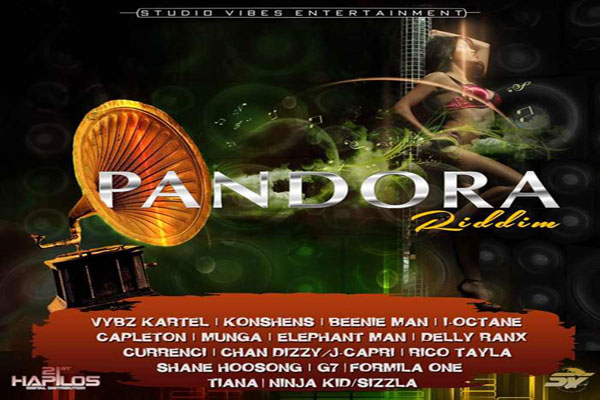 New music and new reggae dancehall songs to listen and enjoy are featured in  the newest Pandora Riddim from Studio Vibes Ent. 
Pandora Riddim features a stellar line up of artists voicing some of the best dancehall reggae singles of the summer, including Vybz Kartel with the hit song – Who Tricked Him - and many others Jamaican artists delivering authentic songs and lyrics.
LISTEN TO VYBZ KARTEL – WHO TRICKED HIM? – STUDIO VIBES ENT. – JUNE 2015
Pandora Riddim features songs from Jamaican artists like Beenie Man, I-Octane, Capleton, Cecile, Chan Dizzy and many others, listen to the full promo mix posted below and check the track listing.Promo download of the full riddim available clicking here. 
LISTEN TO PANDORA RIDDIM FULL MIX BY DJ MATICALISE
PANDORA RIDDIM TRACK LISTING
BEENIE MAN – BADMIND PEOPLE
CAPLETON – LIP SERVICE
CHAN DIZZY & J CAPRI – FORGIVE DEM [RADIO]
CHAN DIZZY & J CAPRI – FORGIVE DEM [RAW]
CURRENCI – MONEY & THINGS
CECILE – RUFF YOU UP
ELEPHANT MAN – ANY WEH [RADIO]
ELEPHANT MAN – ANY WEH [RAW]
FORMILA ONE – YOU CAN'T LIVE SO
G7 – NEEZBERRY
I-OCTANE – FLICK DUPPY FLICK [RADIO]
I-OCTANE – FLICK DUPPY FLICK [RAW]
KONSHENS – MONEY A THE TOPIC
MUNGA – MILLIONAIRE
PANDORA RIDDIM INST – STUDIO VIBES
RICO TAYLA – WE NAH RUN [RADIO]
RICO TAYLA – WE NAH RUN [RAW]
SHANE HOOSONG – WHEN THIS RISE
SIZZLA & NINJA KID – BIG OUT DEH
TIANA – BADMAN NAH BEND NUH BACK [RADIO]
TIANA – BADMAN NAH BEND NUH BACK [RAW]
VYBZ KARTEL – WHO TRICK HIM [CLEAN]
VYBZ KARTEL – WHO TRICK HIM [RAW]

real deal