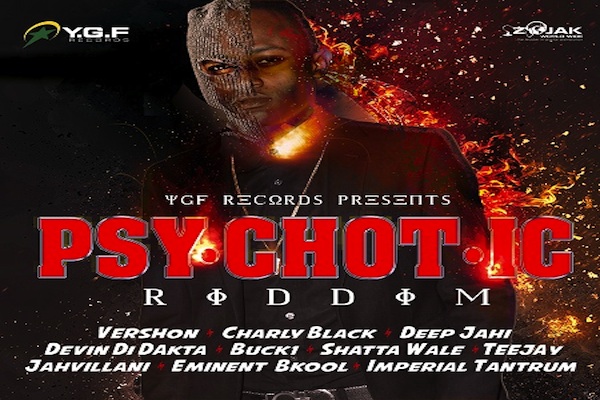 Dancehall student check out the newest Psychotic Riddim produced by YGF Records & Atchyah Entertainment and boasting a line up of young Jamaican dancehall reggae artists.
Voicing on Psychotic riddim are upcoming Jamaican recording artist Buck1 deejaying Psychotic, the main track that gives the riddim its name, Jahvillani with Jesus, Deep Jahi delivering the crispy song Success, new Jamaican star Vershon with a new dancehall anthem titled Street Bun Off and established Jamaican artist Devin Di Dakta with 3X.
Voicing on Psychotic Riddim are also Jamaican recording music artists Shatta Wale, Ratt Trap, Teejay and Eminent BKool closing the riddim Itsy Bitsy.
Psychotic riddim is a new vibrant dancehall soundtrack that boast great songs from young artists delivering good tunes that will please their youngest audience and the title fits perfectly the Halloween upcoming holidays.
Available on iTunes for digital purchase, you can get your favorite song featured on Psychotic Riddim or the whole thing clicking on the banner on this page.



Preview the riddim via the full Psychotic riddim mix and if you like it you can download the mix below posted before the full riddim track listing.
LISTEN TO PSYCHOTIC RIDDIM MIX – JAMAICAN DANCEHALL MUSIC OCTOBER 2017
Psychotic Riddim Tracklist:
01 – Buck1 – Pyschotic (Raw)
02 – Buck1 – Pyschotic (Clean)
03 – Jahvillani – Jesus (Raw)
04 – Jahvillani – Jesus (Clean)
05 – Deep Jahi – Success
06 – Vershon – Street Bun Off (Raw)
07 – Vershon – Street Bun Off (Clean)
08 – Devin Di Dakta – 3X
09 – Shatta Wale – Fool Is The Last Know
10 – Ratt Trapp – 3.5
11 – Teejay – Road Nice
12 – Eminent Bkool – Itsy Bitsy
real deal