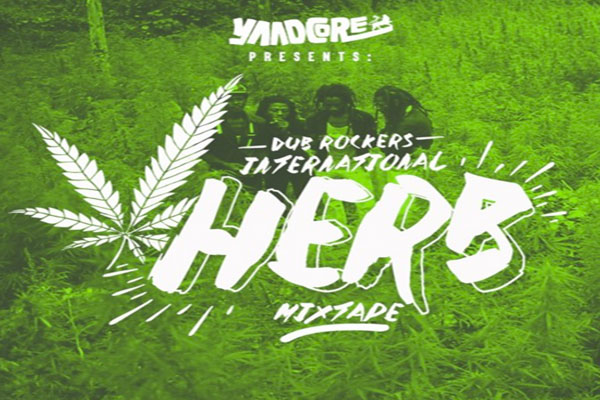 style="display:inline-block;width:250px;height:250px"
data-ad-client="ca-pub-5109320371512143"
data-ad-slot="4941364910">

Free up your mind and float into a sonic experience unlike any other. Yaadcore gives you not only a mixtape, but a statement against the prohibition of marijuana and the oppressive policies that go with it around the world.
Anchored by the Mystic Revealers' "Herb Must Legalize Now" and its 420 High Grade Remix, the mixtape features a track list selected from the VP Music Group vaults, including Greensleeves Records classics and brand new music from the Dub Rockers label imprint.
So light up your chalice and enjoy this smooth blend of ganja anthems. Dis one yah good fi yeh nerves!
Listen To International Herb Mixtape For Dub Rockers -Yardcore
International Herb Mixtape For Dub Rockers Track Listing
1. Rassi Hardknocks

– Outernational Herb


2. Culture

– International Herb


3. Jah T

– Hot Pipes


4. Jacob Miller

– Weed Inna Bush


5. Sugar Minott

– International Herb


6. Linval Thompson

– Marijuana In My Soul


7. Capital Letters

– Smoking My Ganja


8. Johnny Osbourne

– Mushroom


9. Charlie Chaplin

– Jamaican Collie


10. Mighty Diamonds

– Pass The Kutchie


11. Guinney Pepper – Lick The Chalice
12. Macka B

– Medical Marijuana Card


13. Morgan Heritage

– Liscense


14. Keida

– Ganja Tea


15. Bushman

– Legalize It



16.
Gyptian

– Sensi


17.Katchafire – Collie Herb Man
18.Mystic Revealers ft. Chronixx – Herb Must Legalize Now
19.Alborosie – Don't Pressure It
20.Jah 9 – Feeling Irie
21.Raging Fyah – Ganja
22.Slightly Stoopid ft. Capleton – No Cocaine
23.Richie Spice – Marijuana Pon The Corner
24.Collie Buddz – Come Around
25.Queen Ifrica – Coconut Shell
26.Frankie Jones – Dont Smoke The Seed
27.Eek-a-Mouse – Ganja Smuggling
28.John Holt – Police In Helicopter
29.Sugar Minott – Herbsman Hustling
30.Horace Furguson – Sensi Addict
31.Cocoa Tea & Daddy Rings – Herb Fi Bun
32.Mystic Revealers & Friends – Herb Must Legalize Now (420 Highgrade Remix)

real deal