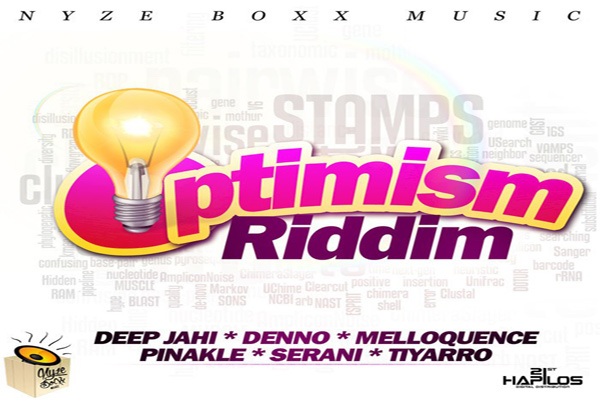 Produced by Nyze BoXx Music there is a new reggae dancehall riddim making the rounds, called Optimism riddim.
Featuring new music from legendary Jamaican recording artist Serani, that sings a new song titled -Why We Have To Die – and sporting also new songs from Deep Jahi, Denno, Melloquence, Pinakle and Tiyarro, Optimism Riddim is a good riddim featuring veteran and new music artists.
Check the full track listing for Optimism Riddim and listen to Serani new song - Why We Have To Die, posted with full lyrics after the audio clips, as well as the rest of the songs voiced on it,  playing the full Optimism riddim mix.
Available for digital download on all major online music distributor you can get the full Optimism riddim clicking on the iTunes banner on this page and either get the full riddim or just your favorite song on it.
LISTEN TO SERANI – WHY WE HAVE TO DIE
LISTEN TO OPTIMISM RIDDIM MIX
SERANI WHY WE HAVE TO DIE LYRICS
(Chorus)
Tell me why we have to die
Everyday a mother just a try
True the bullets her pickney pon ice
Cause I don't know when it's my time
Tell me why we have to die
Everyday a mother just a try
True the bullets her pickney pon ice
Cause I don't know when it's my time
(Verse 1)
Many man wish death pon me
But that cant be the ending of my story
Mi nuh penny man, woman only
And one gyal alone cannot satisfied me
Money cant live in grave wid we
Am spending it all while I live
I will give to the hopeless and even the need
(Repeat Chorus)
(Verse 2)
Give prays when you wake in the top of days
Live good all the people have ways
Work hard and you will get your payslip
Stand tall when you drop in the spay-s**t
Drink and burn spliff
High like space ship
And care for the ones that you stays with
Sing it wid me while I say this
(Repeat Chorus 2X)
Optimism riddim Track Listing
01 – Deep Jahi – Aint No Love
02 – Denno – It Real
03 – Melloquence – Free Myself
04 – Pinakle – Money Honey
05 – Serani – Why We Have to Die
06 – Tiyarro – Try Hard
07 – Nyze BoXx Music – Optimism Riddim (Instrumental)
real deal