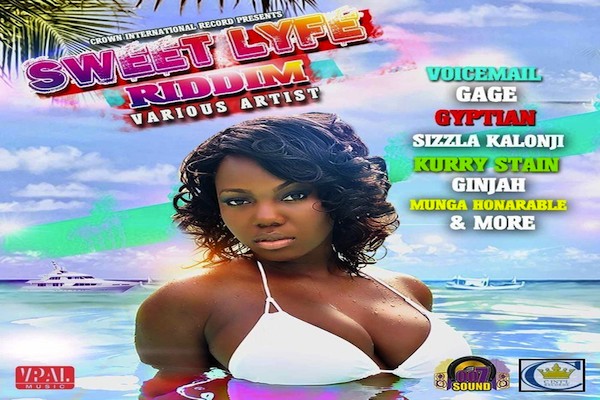 Check out a new dope dancehall reggae riddim coming out of Jamaica for November 2017 and titled Sweet Life Riddim.
Produced by Crown International Records, Sweet Life Riddim sports a huge line up ot top Jamaican artists delivering really good tunes.
Super packed with some serious dancehall reggae hits, voicing on Sweet Life riddim are: Jamaican artists Gyptian, Voicemail, Gage, Sizzla Kalonji with Beautiful Sunshine, Ginjah, incarcerated Munga Honorable, legendary Half Pint, new comers Kurry Stain and Bascom X, veteran Kiprich, Marcia Morgan, Mr Pepper and more Jamaican recording artists, check the full track listing posted after the full mix to check artist's names and songs titles.
A big new dancehall reggae riddim for this end of 2017 packed with good songs, good vibes, good artists to cheer up your day. Sweet Life Riddim is available on iTunes clicking on the banner on this page, you can get just your favorite song on it or the whole riddim. Support Jamaican music.
 Listen to Sweet Life riddim mix and get the full promo download clicking on the download button.
DWNLD SWEET LIFE RIDDIM NEW REGGAE DANCEHALL MUSIC 2017
 Listen To Sweet Life Riddim Mix
Sweet Life Riddim Track Listing
01 – Voicemail – One Dance
02 – Gage – Ragga Muffin
03 – Gyptian – The Bottle
04 – Sizzla Kalonji – Beautiful Sunshine
05 – Kurry Stain – Rock to the Reggae
06 – Ginjah – For Changes
07 – Munga Honorable – Cupload (Raw)
08 – Munga Honorable – Cupload (Clean)
09 – Half Pint – Let Them Talk
10 – Bascom X – Mother's Love
11 – Kiprich – Give Her Little Time
12 – Marcia Morgan – All I Want
13 – Norville Sal – Jah for a Day
14 – Richie Bangin – One Drop
15 – Azee – Who Have It
16 – Mr. Pepper – The Giddian
real deal