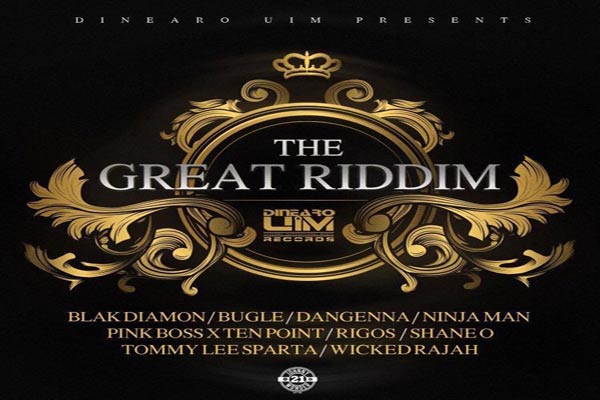 Check out one of the latest dancehall music riddim for June 2017, titled – The Great Riddim – and produced by Dinearo for UIM Records
Boasting a great line up of Jamaican dancehall artists such as Don Gordon himself Ninja Man's new single Dark, Blak Diamond, Bugle, Shane 0, the one and only Tommy Lee Sparta with his new anthem Sparta Don and more Jamaican recording artists.
The Great Riddim is a well rounded dancehall riddim with various artists and different dancehall flavors are all well represented for this beginning of Summer 2017. Already available on iTunes you can get it clicking on the banner on this page or download the promo in a lower quality below.

Listen to the full mix for The Great riddim and check the track listing with the name of the artists and their great new songs below.
Listen To The Great Riddim Mix – UIM RECORDS JUNE 2017
DWNLD THE GREAT RIDDIM FULL PROMO
The Great riddim Track listing
01 – Bugle – Hypocrite
02 – Blak Diamon – Quint It
03 – Ninja Man – Dark
04 – Dangenna – Money Haffi Make
05 – Pink Boss x Ten Point – Eagle
06 – Rigos – Passion
07 – Shane 0 – Nuh Leniency
08 – Tommy Lee Sparta – Sparta Don
09 – Wicked Rajah – Party
real deal