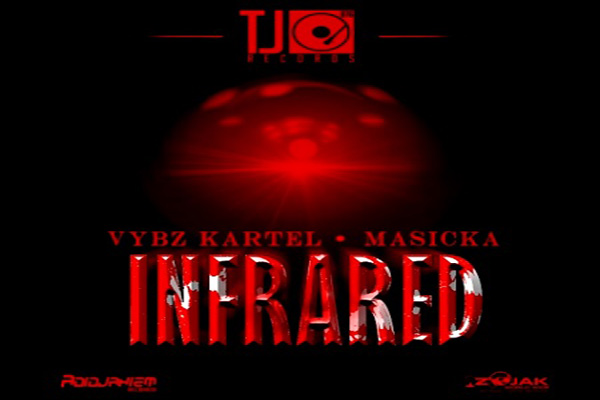 Jailed Jamaican Dancehall star Vybz Kartel is not getting baptized or married behind bars as some rumors circulating in the past days would suggest.
But he dropped a new hard hitting song with Masicka.
While some sources mentioned a letter from jail from Adidja Palmer, sources closed to the Dancehall King dismissed the recent rumors remarking that while Kartel is a god fearing youth, the complete focus of the incarcerated deejay and his team is now on his appeal, scheduled for this September. Kartel has no plans to get married behind bars neither, but he has plans to leave the prison bars behind him.
Vybz Kartel is in a good state of mind and he is positive about the good outcome of his appeal.
Kartel, Shawn Storm, Kahira Jones and Andre St John are all serving a life sentence for the murder of Clive Lizard Williams and have now being behind bars since the end of 2011.
So forget the rumors and focus on Vybz Kartel facts. The Unstoppable dancehall artist has a new collaboration single out, featuring one of the most prominent dancehall artist in Jamaica right now, Masicka.
A few months ago Kartel already endorsed Masicka as one of the artist to watch for 2017,
"But hold on no artiste out there not firing like Masika," "Him my money is on for 2017, him a go be a worthy opponent by 2020." Kartel wrote on his IG hinting out both their fans that a collaborative single could be in the make.
Vybz Kartel & Masicka single finally dropped and is titled Infrared, check the ful lyrics below.
Infrared is a new hit song from the Jamaican stars. Voicing some hard lyrics on a catchy dancehall riddim both artists deliver showing off the lyrical power.
Both Vybz Kartel and Masicka are fans of each others and already expressed their mutual admiration. Masicka is currently under Corey Todd management, Corey Todd is Vybz Kartel former manager.
Listen To Vybz Kartel Masicka – Infrared (Official Audio)
Vybz Kartel Featuring Masicka – Infrared Lyrics
Vybz Kartel & Masicka Infrared Lyrics
Intro: Vybz Kartel & Masicka
Yo yo, TJ
Dawg dem a mi dawg dem
Nutn too cyaa talk out from you diss the dawg dem inuh
Gaza, Genahsyde
Yo
Dawg dem a mi dawg dem
Nut'n too cyaa talk out from you diss the dawg dem inuh
Gaza, Genahsyde
Yo
[Chorus: Vybz Kartel & Masicka
My dawg dem haffi live
Mi dawg dem haffi live
F**k a bag a gyal inna dem hole
And who nuh like how we a live
Point infrared pon him forehead
Marrow flying guh foreign
Empty the Bryco pon him
My dawg dem haffi live
Mi dawg dem haffi live
F**k a bag a gyal inna dem hole
And who nuh like how we a live
Point infrared pon him forehead
Marrow flying guh foreign
Empty the Bryco pon him
[Verse 1: Masicka]
Teacher wi deh ya pon the block
Nut'n change matic inna lap
Spliff wrap, Henny pon the rock
A watch mi enemy a flop
P**sy dem a carry belly fi the pot
Buss yuh likkle jelly cau' you act
Like seh you carry strap
Run up inna anyweh you lock
Gaza mek a link
And mek a man inna yuh place fly yuh bat
Gangsta nuh wife rat
Trigga press fi di dollars why not
[Chorus: Vybz Kartel & Masicka]
My dawg dem haffi live
Mi dawg dem haffi live
F**k a bag a gyal inna dem hole
And who nuh like how we a live
Point infrared pon him forehead
Marrow flying guh foreign
Empty the Bryco pon him
My dawg dem haffi live
Mi dawg dem haffi live
F**k a bag a gyal inna dem hole
And who nuh like how we a live
Point infrared pon him forehead
Marrow flying guh foreign
Empty the Bryco pon him
[Verse 2: Masicka]
We a guh live until we dead
We dawg dem train fi fling it inna head
Full dem up a copper, couple lead
When man a bad dem inna bed
The crocs dem never leff it times dread
Roll up pon dem corner like seh we get invited
Skull a crack, man a scramble like egg
Wul this, glock tun on, big man a try beg
Anyweh you go a anyweh the crime spread
Mi load it up and buss it fi the bread
[Chorus: Vybz Kartel & Masicka]
My dawg dem haffi live
Mi dawg dem haffi live
F**k a bag a gyal inna dem hole
And who nuh like how we a live
Point infrared pon him forehead
Marrow flying guh foreign
Empty the Bryco pon him
My dawg dem haffi live
Mi dawg dem haffi live
F**k a bag a gyal inna dem hole
And who nuh like how we a live
Point infrared pon him forehead
Marrow flying guh foreign
Empty the Bryco pon him
[Verse 3: Masicka]
Streets haffi honor we, Dawg dem a mi family
And if you drop you naafi worry bout yuh mama she
Full black Wallabee, Pull back hammer we
Go anywhere go buss dem head, Nuh want a dollar we
Not even time we haffi spend we f**k dem gyal ya free
Mi have the 90 clip extend so weh some man a pree
A true we stack the G, like we sell a lot a key
Den kill dem gyal wid jook, like a macka tree
Shot dem mek dem find demself, f**k wid one a we
Put the trigger under bondage, set the hammer free
Bwoi diss, and nuh dead? That a nuh we
Ayy Portmore
[Chorus: Vybz Kartel & Masicka]
My dawg dem haffi live
Mi dawg dem haffi live
F**k a bag a gyal inna dem hole
And who nuh like how we a live
Point infrared pon him forehead
Marrow flying guh foreign
Empty the Bryco pon him
My dawg dem haffi live
Mi dawg dem haffi live
F**k a bag a gyal inna dem hole
And who nuh like how we a live
Point infrared pon him forehead
Marrow flying guh foreign
Empty the Bryco pon him
real deal