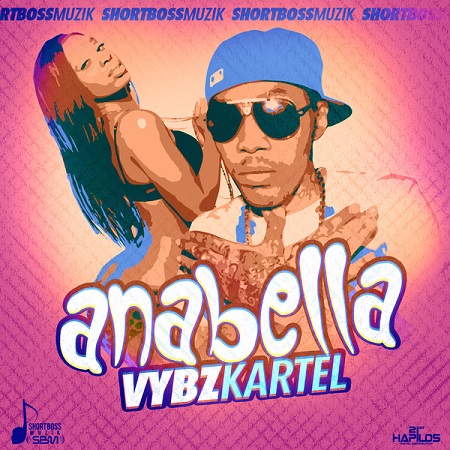 Since its beginning Jamaican Record label Short Boss Muzik, delivered nothing but hits songs and this new explicit Vybz Kartel's song it is not an exception.
Listen below to Vybz Kartel  Anabella, a new explicit dancehall song from incarcerated Dancehall King Vybz Kartel.
Produced by Shorty's label Short Boss Muzik support World Boss Vybz Kartel getting Anabella on iTunes, clicking on the banner on this page and sing along to Kartel latest explicit dancehall song checking "Anabella full lyrics" scrolling down.
LISTEN TO VYBZ KARTEL – ANABELLA – SHORT BOSS MUZIK- OCT 2015



A new viral dance inspired from Anabella's song is going now viral in Jamica, if you want to practice or just watch how is it done click play on the next video
Watch Vybz Kartel – Anabella ft.Xqlusiv Dancers (NEW DANCE STEPS)
VYBZ KARTEL – ANABELLA LYRICS – SHORT BOSS MUZIK
Anabella, Anabella-puncinella mi nuh fella
Gyal you too puncinella mi nuh fella
Shi a do it too puncinella mi nuh fella
S**k mi c**key pon the riddim and s**k it acapella
Anabella, puncinella mi nuh fella
Gyal you too puncinella mi nuh fella
Shi a do it too puncinella mi nuh fella
S**k mi c**key pon the riddim and s**k it acapella
(Verse 1)
Deposit paw yo tongue you a fi mi bank teller
Touch you paw yo breast and meck yo nipple dem sweller
If you mouth is a virgin come a Karteller
Hear her, Si how you stay…you meck mi come and you nuh deh yah
Mi seh MOREDU-SSYI am a speller
C**key deh yah fi Ginella, Precella, ellalacella
If you bad like mi wi turn yo tongue in a propeller
Open up yo mouth like wi under umbrella
(Repeat Chorus)
(Verse 2)
From you reach a mi yard you a get a steel treasure
Have allot of sex but you never feel pleasure
Baby you have a man but him nuh give you real pressure
Hear her, yea it big but it nuh hot a sweet pepper
Mi seh lololololllhaha
C**key deh yah fi Natasha, Sasha, Asha and Tasha
If you bad like mi wi turn yo tongue in a propeller
Open up yo mouth like wi under umbrella
(Repeat Chorus)
(Repeat Verse 1)
(Repeat Chorus)

real deal