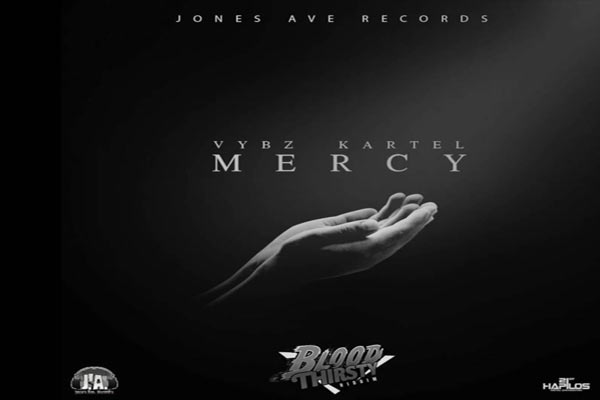 Get in full war gear and listen to a new dancehall gun tune from Jamaican World Boss Vybz Kartel titled – Mercy.
Incarcerated Gaza General and Jamaican Dancehall King Vybz Kartel has several new [hot like fire] war tunes out right now, like

Step,

Who Trouble Dem

, 9X and now – Mercy where he takes direct jabs to his adversaries Mavado & Alkaline, whom in the the past months released several diss songs aimed to Popcaan, Demarco and Kartel himself.
Anyhow Kartel released a new deadly song, where he literally steps in and finish the job his former Empire artist Popcaan couldn't finish with Mavado, but don't get it wrong it has nothing to do with defending Popcaan.
First of all Popcaan and Kartel are not in speaking terms, second if anything Kartel is upset for them targeting Demarco and third Kartel has an huge arsenal of war songs directed to his rival Mavado,and viceversa, since the beginning of their careers.
Over the last few months, Alkaline took a few subliminal jabs at Kartel, and in this new song Mercy -lyrics are below the song, there is a line where Kartel deejays about a blind boy which many see as a direct referral to Alkaline blacked eye.
Fans of Vybz Kartel found it coward and badmind that some artists have always something to say about or against Vybz Kartel, making songs out of his name and chasing after his popularity, overall because he is incarcerated since the end of 2011 and has always maintained his innocence while awaiting for a new fair trial.
Listen to Vybz Kartel new song Mercy posted below with lyrics and judge by yourself. Click on the banner to purchase the song.
LISTEN TO VYBZ KARTEL – MERCY -[ALKALINE DISS] JONES AVENUE RECORDS
VYBZ KARTEL – MERCY – [ALKALINE DISS] LYRICS
Ha ha ha
Yo, the pussy dem dead now to bloodclaat
Roll out the army
Catherine badness, Catherine badness
Weh you mean by
Spanish Town badness, Portmore badness
Some bwoy just a learn it
You just a learn it you just a learn
Just a learn it
We bloodthirsty
Wul a yuh gun dem a virgin
You never murder, you never kill
Never hurt nobody fi dem, muma service a beg mercy
Mercy, mercy, mercy
We bloodthirsty
Wul a yuh gun dem a virgin
You never murder, you never kill
Never hurt nobody fi dem, muma service a beg mercy
Bare shoes Foot Locker bush whacker
Head back a crush glock a bruk yuh foot
Bwoy vomit out mummy red rice weh cook
Like Lot wife you salt weh you look back for
You shoulda run, you shoulda run
You wouldn't deh inna the grung
Inna a box a look up inna e sky watch ya
Man a bun weed and a sip sky vodka
A man piss 'pon yuh grave and seh
You just a learn it
You just a learn it you just a learn
Just a learn it
We bloodthirsty
Wul a yuh gun dem a virgin
You never murder, you never kill
Never hurt nobody fi dem, muma service a beg mercy
Mercy, mercy, mercy
We bloodthirsty
Wul a yuh gun dem a virgin
You never murder, you never kill
Never hurt nobody fi dem, muma service a beg mercy
The M-1 name AT&T
From long distance it connect
All collect call da one ya mek
Open bwoy head fi see if him have talent
Fuck do you
Mi cyaan dead like Pan Head
Rise every rifle weh park uppa Damhead
Unno never know a so much alien inna the planet
Rivoli
Dem bwoy deh a learn it
You just a learn it you just a learn
Just a learn it
We bloodthirsty
Wul a yuh gun dem a virgin
You never murder, you never kill
Never hurt nobody fi dem, muma service a beg mercy
Mercy, mercy, mercy
We bloodthirsty
Wul a yuh gun dem a virgin
You never murder, you never kill
Never hurt nobody fi dem, muma service a beg mercy
Bare shoes Foot Locker bush whacker
Head back a crush glock a bruk yuh foot
Bwoi vomit out mummy red rice weh cook
Like Lot wife you salt weh you look back for
You shoulda run, you shoulda run
You wouldn't deh inna the grung
Inna a box a look up inna e sky watch ya
Man a bun weed and a sip sky vodka
A man piss 'pon yuh grave and seh
You just a learn it
You just a learn it you just a learn
Just a learn it
We bloodthirsty
Wul a yuh gun dem a virgin
You never murder, you never kill
Never hurt nobody fi dem, muma service a beg mercy
Mercy, mercy, mercy
We bloodthirsty
Wul a yuh gun dem a virgin
You never murder, you never kill
Never hurt nobody fi dem, muma service a beg mercy
Mercy, mercy, mercy
Mercy, mercy, mercy
Mercy, mercy, mercy
Mercy, mercy, mercy
We bloodthirsty
Mercy, mercy
Wul a yuh gun dem a virgin
You never murder, you never kill
Never hurt nobody fi dem, muma service a beg mercy
real deal