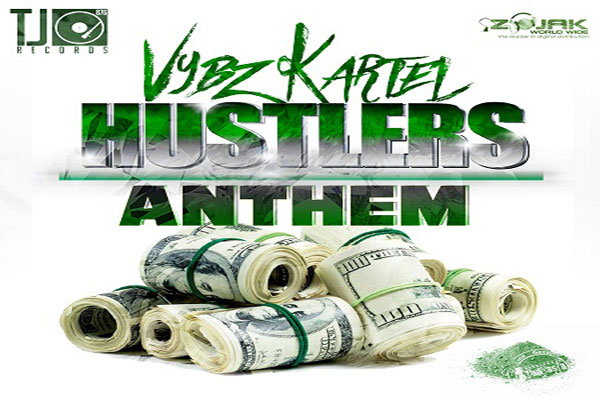 TJ Records and Vybz Kartel dropped a new hard hitting music single Gaza Style titled Hustlers Anthem for December 2015.
The new World Boss dancehall song, as the title states, is a celebration of ghetto life and survival so this is another World Boss song with social commentary where Kartel bigs up hard workers like himself and also Usain Bolt, the Olympic Champion which is a big Kartel fan.
Listen to Vybz Kartel new song Hustler Anthem and sing along Gaza General Kartel with the lyrics posted below.
LISTEN TO VYBZ KARTEL – RESPECT – HUSTLERS ANTHEM – TJ RECORDS – DEC 2015 – OFFICIAL AUDIO
VYBZ KARTEL HUSTLER ANTHEM – LYRICS
(Chorus)
Da one yah name respect to the hustlers dem
Every hustlers fi keep hustle as friend
Fire burn fi the idlers dem
Idlers alone keep idlers friend
(Verse 1)
Dawg, million a day mi a look
Every ghetto youth follow mi nuh hot foot
Food haffi eat maybe a bank look
But mi naw left the kitchen until a pot cook
Some bwoy waan thirty sneakers
But mi tell Genie mi waan thirty bank book
Big up Usain him have a drag foot
Dads Morgan can fling a shot put
A nuh every ghetto youth can do, do, that to
Suh mi big up every hustler weh deh a back to
In a the street fire, fire, everyday
Dawg don't meck a killer catch unuh flat foot
You a song mi a sing like mi a Samcook
Mi nuh in a the, in a bag a man shuck
Si the money deh mi naw stand up and look
New land Comboland meck wi go fi that to

(Repeat Chorus)
(Verse 2)
Big up every bad slave
Samsharp set it like supn just blaze
Nanny my baby, love you my babe
You help wi fi tek off the shackles and chains
Suh how mi fi gwaan like mi a fool
Weh do you? Man haffi have brains
Meck things better like wi a first aid
New day now big up the old days
Every nurse tell mi fi tell unuh seh
Dem waan nough more money call it a pay raise
Every teacher a seh tell unuh seh
Dem waan nough more money call it a pay raise
High in a the sky like British Airways
Hey babylon stick bruk in a yo ears
Weh the money deh mi naw stand up and gaze
Mi a tek over earth from down a
(Repeat Chorus)

real deal