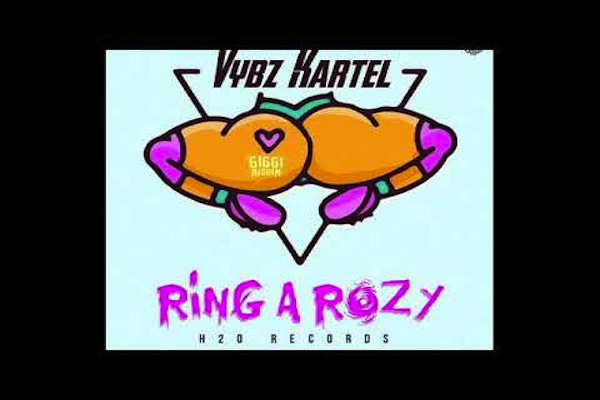 Listen to a new release from incarcerated 1 Don of Dancehall Music Vybz Kartel, titled "Ring A Rozy" and produced by H20 Records, owned by ZJ Liquid.
Jamaican World Boss Vybz Kartel

has already expressed his will to release only happy positive tunes while awaiting for his appeal trial to re-start this year, the awaited and crucial appeal trial is scheduled to begin on July 8 2018, already the longest trial in Jamaican history lets' hope for no more delays.
Since the prior trial that sentenced Kartel to 35 years in prison before parole has been shadowed by delays over delays, missing evidence, altered evidence, controversial witness depositions, corruption and much more let's hope this time, with the lessons learned so far, the music coming out won't affect the outcome of the trial.
Vybz Kartel's new single "Ring A Rozy" is a catchy, happy new dancehall song, the cover explains better than any words could, the main theme of the song.
Voiced on the Giggi Riddim, that came out few months ago, at the beginning of October 2017, Giggi Riddim includes some of the biggest names in Jamaican dancehall music such as Demarco, Konshens, Buju Banton, Raytid, Raine Seville, Mr. G, Kalado, Ishawna, Delly Ranx and now also Vybz Kartel with "Ring A Rozy".
Stream or download the full Giggi Riddim clicking here and listen to the latest addition to the already explicit dancehall riddim with Kartel's "Ring A Rozy" , the new Vybz Kartel's witty dancehall song is already available on iTunes, get it clicking on the banner on this page.
Listen To Vybz Kartel "Ring A Rozy" Giggi Riddim
Hardcore fans of Vybz Kartel can now sing along "Ring A Rozy" with the full lyrics posted below.
Vybz Kartel "Ring A Rozy" Lyrics
[Intro]
Some gyal have a problem
They can't hold dem man dem
Gyal, nothing shot like a MAC-10
Cock-cock, cock up
[Verse 1]
They waan beat up your pussy so bad
Come inna me room, all [?]
Don't wear draws if you wanna go fast
Lean to the left like when a car
Turn on, mek you go bawl and mek you go mad
But me no inna the Bible, so no say, "Oh God"
Cum, me a cum, feel body start hurt
Mek it gwaan soak in, if you wanna give birth
[Chorus]
Ring a ring a rozy, your pussy no frozy
Your body a the glory
You get the trophy
Ring a ring a rozy, your pussy no frozy
Your body a the glory
You get the trophy
[Verse 2]
Deh 'pon your case like birth Samual
Cah no case me a buss, me a ff
Cum, you a cum, baby, oh yeah
Shake like a courtroom when the judge vex
[Chorus]
Ring a ring a rozy, your pussy no frozy
Your body a the glory
You get the trophy
Ring a ring a rozy, your pussy no frozy
Your body a the glory
You get the trophy
real deal