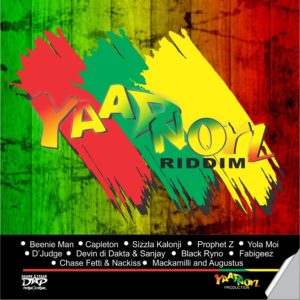 Check out one of the dopest dancehall reggae riddim for the month of September 2017, titled YaadNoyz Riddim, produced by YaadNoyz Production.
YaadNoyz Riddim sports some big tunes by big Jamaican artists, the line up is stellar from Beenie Man the doctor deejaying about blazing it, to Black Ryno, Capleton, Sizzla Kalonji, Yola Moi, Devin Di Dokta and many more top Jamaican recording artists, all delivering great songs on this blazing new energetic dancehall reggae riddim.
Available on iTunes for digital download get the full riddim or just your favorite song featured on it, clicking on the banner on this page
Listen to the full promo mix for YaadNoyz Riddim posted below and  for a limited time only is also available a full download of the promo, at a lower quality. Support Jamaican music purchasing the full riddim or just your favorite song voiced on it.
LISTEN TO YAADNOYZ RIDDIM (Mix-Sep 2017) YAADNOYZ PRODUCTION



DWNLD YAADNOYZ RIDDIM FULL PROMO
YaadNoyz Riddim Track Listing
01 – Beenie Man – When We Blaze
02 – Black Ryno – New Doctor
03 – Capleton – King
04 – Chase Fetti and Nackiss – Dope
05 – Devin Di Dakta and Sanjay – Whine Up (Budum)
06 – D'Judge – Bad Fi Real
07 – Fabigeez – Fast (Tribute to Usain Bolt)
08 – Mackamilli and Augustus -Nuh hail (Hypocrite)
09 – Prophet Z – Party
10 – Sizzla Kalonji – Suh Di Ting Set
11 – Yola Moi – Body of the Year
real deal