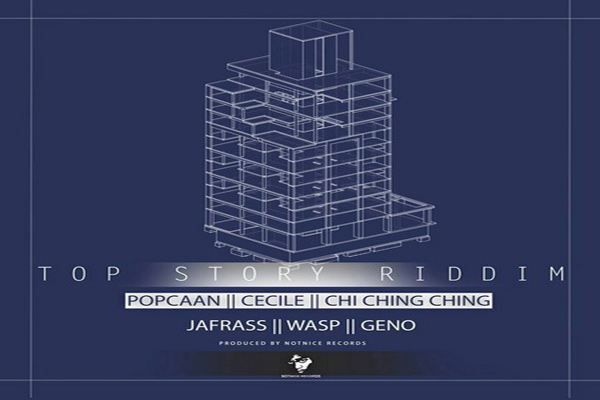 Tune in to one of the latest hard hitting dancehall riddim coming out of Jamaica.
Produced by Notnice Records and titled Top Story Riddim features top Jamaican recording artists voicing on it.
Boasting a great line up of stars, starting with Ce'Cile that sings – Sweet Like That, going on to Chi Chi Ching deejaying about staying real, JaFrass with Beat Dem Bad and Wasp with Join The Line.
Voicing on Notnice Top Story riddim also dancehall star Popcaan that deejays about being in love.
Check the full track listing for the riddim and download a full promo version or get the real deal on iTunes clicking on the banner below.
Jamaican artist Popcaan and Not Nice link goes back to Vybz Kartel's Portmore Empire, both Poppi and Notnice were member of Kartel's disbanded Empire and have been working to music together since the beginning of Popcaan's career, that was launched to stardom by Adidja Vybz Kartel Palmer. Notnice also gained his fame and established his career as a music producer delivering some great riddims & hit songs with all Gaza artists.
To reinforce their link know also that Popcaan has aa baby daughter, Rhianna, from Notnice's sister, making Notnice and Popcaan family also a part of their long music history.
Notnice had a fall out with Kartel following some of his equipment disappearing from his recording studio and while he admires Kartel with whom he worked for many years he never spoke to him again since his incarceration.
DWLD TOP STORY RIDDIM FULL PROMO
Listen To Top Story Riddim – Notnice Records (April 2017) [Popcaan, Cecile, Chi Ching Ching]
TOP STORY RIDDIM TRACK LISTING
01 – Ce'Cile – Dweet Like Dat (Sweet Like)




02 – Chi Ching Ching – Stay Real




03 – Geno – Ruff Up




04 – JaFrass – Beat Dem Bad




05 – Popcaan – In Love




06 – Wasp – Join The Line




07 – Notnice Records – Top Story Riddim Instrumental
real deal