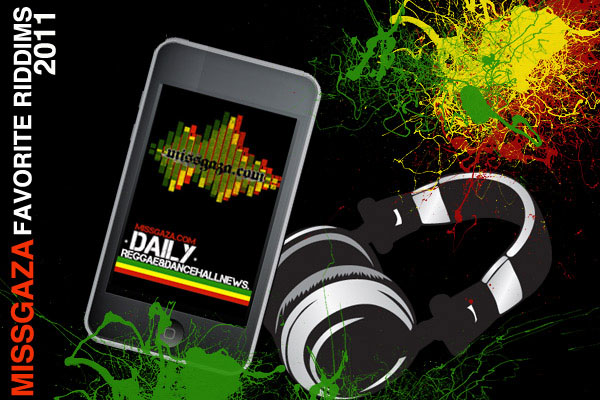 A Lot of Riddims came out in 2011. Here some of my favorites, always  in my selection and also coming with me in 2012. About that , wish You all a Great 2012 Rastas.  The Year Of The Dragon … &  much more.
Lost Angel Riddim – So Unique Records .

From this summer, August 2011,  the whole  Gaza Empire  voicing on it. Popcaan, Shawn Storm, Vybz Kartel, Tommy Lee, Gaza Slim, Sheba, Stylish.
Overproof Riddim – JA Productions

This is a hot hot Riddim a bit played out tho since everybody voiced on it and more are voicing on it.



Take Over Riddim – Notnice Prod.

Aidonia, Beenie Man, Charlie Black, D'Angel, Dosa Medicine, Dotta Coppa, G Whizz , Jah Vinci, Khago, Lysa Hyper, Merital Family, Mr Vegas, Navino, Nine Mill, Pamputae, Ryno, Spice, Tony Matterhorn, Ward 21

The Message Riddim – Don Corleon Records-

Pressure – Jah Love ,Da Professor – Words, Richie Spice – Got To Make It, Sophia Squire – Love, Cecile – Rise Up, Jah Vinci – Wicked Heart ,Ikaya – Fly Away, Kymani Marley – Brave Ones, Vybz Kartel – Poor People Land ,Protoje – Take Control



Jericko Riddim – Don Corleon Records

Da Professor -Shake It Up, Kymani Marley -War,
Vybz Kartel -Mi Don't Know

Think Twice Riddim – Warrior Musick
Davino – In This Jungle, Duane Stephenson – Think Twice, Fanton Mojah – Rasta Got Soul, Luciano – I Can We Can, Lutan Fyah – Rastafari Leads The Way, Sir Ford – Oh Lord, Turbulence – Stay Away

Steppa Life Riddim – Black Spyda Rec –
Aidonia – Steppa Life, Tony Matterhorn – Fuck Maxx Out, Onton – Gal Alert, Deablo – Real Steppa, Blak Ryno – Pussy Deh So,  DJ Sunshine – Dip N Come Up,  Navino – Work ForMine, Chedda – Nuh Borrow

Love Salute Riddim – Head Concussion-
with Chan Dizzy , Taurrus Riley , Rasco ,Kush Riley , Jameik King, Laza Morgan

Antique Riddim – Head Concussion Prod.-

 Da Professa ft. Ken Boothe,Gaza Slim & Vybz Kartel, Kymani Marley ,Protoje , Romain Virgo ,Tarrus Riley



Riot Squad Riddim – Massive B -

with Chino, Bramma, Major Mackerel,Vybz Kartel,Gwalla, Mr.Vegas, Khago,Pamputae,Elephant Man,Vader & Armstrong,Ding Dong, Fambo, Burro Banton

So Bad Riddim -Young Vybes Prod.

Vybz Kartel, Popcaan,Tommy Lee, Jahmiel



Starbucks Riddim – Hot Coffee Music -

Gyptian, Flexx, Bugle, Baby Chris, Delly Ranks, Gappy ranks, Kibaki  and many more on it.

real deal