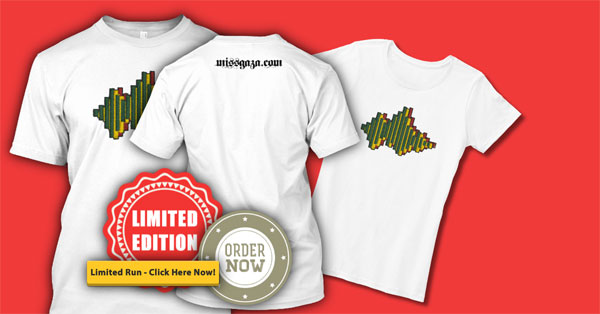 To celebrate the 5th year Anniversary at missgaza.com, we just launched a Limited Edition T-Shirt Campaign.
The t-shirt reproduces missgaza.com logo with the iconic rasta colors embedded in a music equalizer in the front, while in the back there is missgaza.com signature.
CLICK HERE TO ORDER YOUR SHIRT NOW
The universal colors and the original logo make it the perfect gift for yourself or your friends.
You can buy the shirt online and add it to your reggae wear collection and know it that doing so you are supporting missgaza website to stay alive and keep broadcasting free online music, reggae & dancehall non stop to download, and some of the best reggae youtube videos and the biggest Vybz Kartel hits in a site with more then 2000 articles and thousands of thousands of music files.
Please note: this is a one time online offer only: missgaza.com can't provide in-store shopping or in-store pickup. All orders must be placed through the link below and will be shipped to your destination.
SEND US AN EMAIL
If you have any questions regarding our products or your order, feel free to email us at ishynefirst@gmail.com.
 . PRINTED IN A VERY SMALL BATCH THE SHIRT IS CURRENTLY AVAILABLE ON PRE- ORDER ONLY.
Missgaza shirts are available in all sizes for both the gallis and the gals them and will be shipped internationally
The campaign runs only for a limited amount of time.
THANK YOU FOR YOUR SUPPORT! BIG UP YOURSELF!
real deal