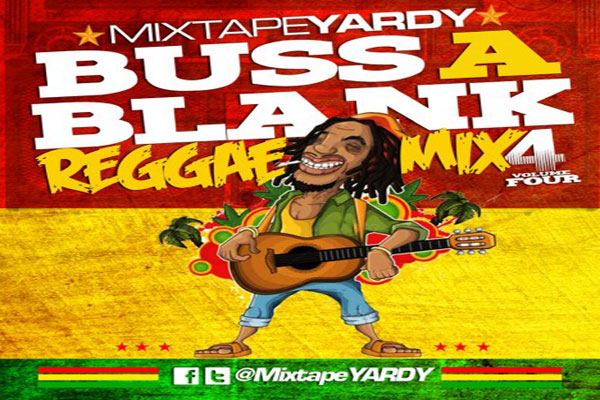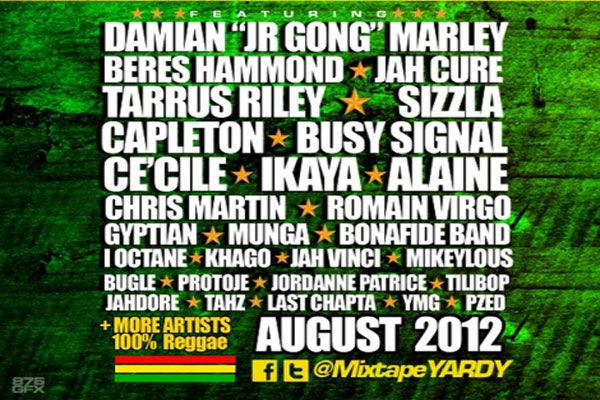 MixtapeYARDY presents Buss A Blank Reggae Mixtape Series Vol 4.
If you are looking for the best reggae songs and riddims,top Jamaican reggae and dancehall artists, best reggae songs to dance, listen, sing along and feel good, this is one of the best reggae dancehall mix series and you won't be disappointed.
This is the fourth volume of the fortunate series packed with artists like Beres Hammond, Chris Martin, Jah Cure and Damian Marley, Ce'cile, Mavado, I-Octane, Tarrus Riley just to name a few, sporting the best reggae from Jamaica and packed with sensational songs.
This is a vintage mixtape because it came out few years ago but still the songs featured are some classics reggae dancehall tunes, the download link expired and it's not available anymore, but you can still stream MixtapeYardY Buss A Blank Reggae Mix Vol.4,from you computer or device below.
Stream MixtapeYardy Buss a Blank Reggae Mix Vol.4
Reggae Mix Buss A Blank vol 4 Mixtape Tracklist:
01 –

Busaa A Blank vol 4  Intro

02 – Christopher Martin –

Chill Spot

03 – Ce'Cile –

Dem Yah Time

04 – Zagga –

Remember The Days

05 – I Octane –

Jah A Keep Me Up

06 – Mavado –

Like Me

07 – Tarrus Riley –

Dream Woman

08 – Voicemail –

I Moved On

09 – Voicemail Ft – Jordanne Patrice –

In My Bed

10 – Sean Paul –

Caught

11 – Mavado –

Mek She Cry

12 – Raine Seville –

Talk Is Cheap

13 – I Octane –

Cant Get Over

14 – Alaine –

Another Love Song

15 – J Boog –

Love Me

16 – Gyptian –

One More Time

17 – Tarrus Riley –

Sorry Is A Sorry Word

18 – Delando –

When Your Love Went Away

19 – Rasun –

Hard To Walk Away

20 – Red Rose –

All I Wanna Do

21 – Bugle –

It's A Journey

22 – Ce'cile –

You And Me

23 – Loyal Flames –

Youth Can't Reap

24 – Alaine –

Revolution Song

25 – Zagga –

Can't Hold Me Down

26 – Romain Virgo –

Cry Tears For You

27 – Christopher Martin –

Every Single Thought

28 – Romain Virgo –

This Thing Called Love

29 – Beres Hammond –

Dancing Beauty

30 – Busy Signal –

Reggae Music Again

31 – Busy Signal –

Come Over

32 – Sizzla Kalonji –

Everything Is Ok

33 – Chuck Fenda –

Want It Want It

34 – Esco Levi –

Ruffer

35 – Pressure –

Drown U

36 – Busy Signal –

Leaving

37 – Damian Marley –

Affairs Of The Heart

38 – Jah Cure –

That Girl

39 – Christopher Martin –

White Sheets

40 – Ce'Cile –

When Love Is Right

41 – Jah Vinci –

Run Away With Me

42 – Cali P –

Fire Burning

43 – Hyah Slyce –

Set Me Free

44 – Bugle –

From The Outside

45 – Vybrant –

Give Us A Chance

46 – Tilibop –

2 O'clock

47 – Solution / Nymron –

Swear

48 – YMG / Last Chapta –

New Life

49 – Nature Ellis –

World Peace

50 – Mitch –

Road Of Life
real deal