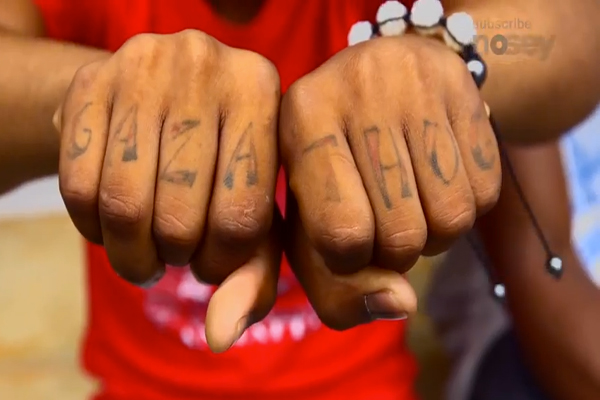 Check out some of the newest dancehall songs from Jamaican Gaza Artists from the Portmore Empire for February 2011!
Listen to Vybz Kartel voicing on a new reggae dancehall riddim produced by Jamaiacn music label-Head Concussion. owned by young and talented producer Russian.
This new Kartel 's song is really forward and it's called called "The Lyricist", really a great tune, destined to became legendary in dancehall music and one of the best and biggest tune in Kartel's discography.
Listen carefully to it and click on the banner to get it on iTunes, this now classic dancehall song that inspired many other artists and left some with their mouth open! 
The delivery, the lyrics, the riddim, everything on this song is on point and at this day considered a real masterpiece from Kartel, that gave a big contribution to making Jamaican dancehall music popular all over the world.
LISTEN TO VYBZ KARTEL – THE LYRICIST – HEAD CONCUSSION RECORDS – FEB 2011
There are several more new songs from Gaza General Vybz Kartel this month. Another brand new song titled "Hold Your Faith" voiced over Dutty Sneakers Riddim. 
Kartel knows how it hurts to be poor and in this song he deejays to the ghetto youths telling them to hold their faith in Jah.

The riddim is a feel good reggae dancehall beat and Kartel has wise word for the youths.
While Kartel is mainly known for his slack songs he has several conscious songs on the theme of faith and holding the faith and they all have social commentary.
His versatility and his direct lyrics make him one of the most played and loved Jamaican dancehall reggae deejay.
LISTEN TO VYBZ KARTEL  NEW SONG – HOLD YOUR FAITH
Featured on Vybz Kartel's Pon Di Gaza 2.0  ravin album, produced by Adidjaheim Records and Notnice records, No Lie is one of the most danced single right now, post it below with lyrics.
LISTEN TO VYBZ KARTEL DANCEHALL SONG  - NO LIE
Kartel No Lie Lyrics
Intro:
Gal you hot(mmm) you real hot(mm)
When you wine mi pree dat
Bend your back baby you nina(weh yuh seh)
Bend you back baby you nina oh
Gal a chat you devil pree dat
You a diva she a idiot
You a princess dem a street rat baby
You a diva she a idiot
Chorus:
No lie gyal when me see you wine (OH)
Baby you mash up mi mind
Love it when you wine fast and when you wine (slow)
Baby me waan put a ring pon you
Me know you a wine from time,long time
Me know you a wine from time,long time
Me know you a wine from time,long time
Verse 1:
Baby you do the likkle ting dem mi like fi see
Mi time fi you tun inna mi wife fi see
Click Nike scissors and wine me see
Gal come fi di bicycle ride easy
And weh you sit down inna saggle take time easy
Million dolly same time me see
Wooyyyy you dont hav no spine you see
Me haffi swear to jah jah no mankind easy ahuo
Chorus:
No lie gyal when me see you wine (OH)
Baby you mash up mi mind
Love it when you wine fast and when you wine (slow)
Baby me waan put a ring pon you
Me know you a wine from time,long time
Me know you a wine from time,long time
Me know you a wine from time,long time

Verse 2:
Baby you bright up the room every eyes a see
Bruck out pon di riddim the voice of me
Gal mek yu do it so nice fi addi
Popcaan haffi peep Notnice a pree
This swing rule and di ice a steam
Mek yuh deh pon di top of your voice a scream
Woohh mi tun up di skin
Dem say how me brown so nuh must di cream (OH)
Chorus:
No lie gyal when me see you wine (OH)
Baby you mash up mi mind
Love it when you wine fast and when you wine (slow)
Baby me waan put a ring pon you
Me know you a wine from time,long time
Me know you a wine from time,long time
Me know you a wine from time,long time
Intro:
Gal you hot(mmm) you real hot(mm)
When you wine mi pree dat
Bend your back baby you nina(weh yuh seh)
Bend you back baby you nina oh
Gal a chat you devil pree dat
You a diva she a idiot
You a princess dem a street rat baby
You a diva she a idiot
Chorus:
No lie gyal when me see you wine (OH)
Baby you mash up mi mind
Love it when you wine fast and when you wine (slow)
Baby me waan put a ring pon you
Me know you a wine from time,long time
Me know you a wine from time,long time
Me know you a wine from time,long time

real deal