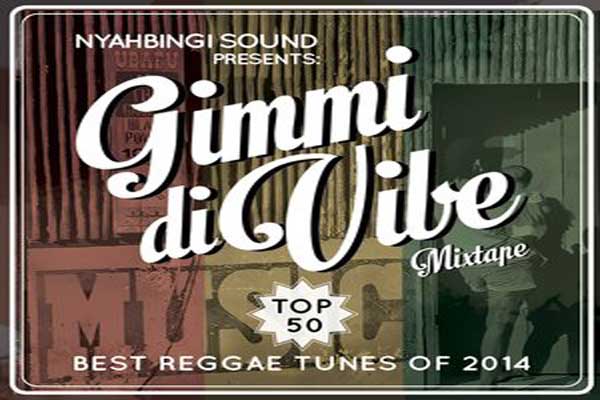 Pep from Nyahbingi Sound based in Barcelona, Spain sent in their new mixtape "Gimme Di Vibe" to be posted & shared on missgaza.com.
Once you pass the intro, get ready to vibe with some sweet culture reggae tunes spiced up with some likkle dancehall songs from Demarco, Agent Sasco and few more Top Jamaican dancehall artists.
Gimmi Di Vibe  is a really good reggae dancehall mix that includes the very latest and biggest hits in reggae music for 2014 as the mix is dubbed Best Reggae Tunes of 2014, and includes the Top 50 Reggae Songs of 2014.
This is a mad ting! Check out the streaming links and click on the button below for to download in free mp3 format or bookmark this page and come back later for future listening or downloading.
Stream Gimmi Di Vibe Mixtape by Nyahbingi Sound – Best Reggae Songs of 2014
Gimmi Di Vibe Mixtape by Nyahbingi Sound – Best Reggae Tunes of 2014 by Nyahbingi_Sound on Mixcloud
Stream Gimmi Di Vibe Mixtape by Nyahbingi Sound – Best Reggae Tunes of 2014
DWNLD GIMMI DI VIBE BEST REGGAE TUNES OF 2014
Gimmi Di Vibe Free Reggae Dancehall Mixtape by Nyahbingi Sound – TRACK LISTING
1. Intro - 

00:00 2. Fantan Mojah - Roots And Culture (Herb Family Riddim) - 02:02
3. Delly Ranks - Sweet Reggae (Herb Family Riddim) - 03:44
4. Busy Signal - Nah Follow Dem (Freedom Fire Riddim) - 04:35
5. Marlon Asher - The Mountain (Kilimanjaro Riddim) - 05:49
6. Capleton & Positive Young Lion - Peace (Rise Up Riddim) - 06:58
7. Prince Malachi - Give Thanks (Rise Up Riddim) - 08:38
8. Agent Sasco - Rebellious Nature (Arishe & Shine Riddim) - 10:05
9. Skarra Mucci - Sound Elimination (Arishe & Shine Riddim) - 11:35
10. Capleton - To Much Man A Dead (No More Slaving Riddim) - 13:04
11. Gappy Ranks - Selling Stories (No More Slaving Riddim) - 14:22
12. Chukki Starr - Clean And Pure (Rose Moet Riddim) - 15:51
13. Delly Ranks - Gimmi A Vibe (Rose Moet Riddim) - 17:18
14. Anthony B – Build Back (Maxfield Avenue Riddim) - 18:34
15. Morgan Heritage - Perform And Done (Maxfield Avenue Riddim) - 19:49
16. Mellow Mood Feat. Richie Campbell - Inna Jamaica - 20:51
17. Capleton - Wah A Dem A Do (Going Home Reloaded Riddim) - 22:17
18. Pressure - Just Perfect (Going Home Reloaded Riddim) - 23:49
19. Damian Marley - Gunman World (Rootsman Riddim) - 25:32
20. Protoje & Chronixx - Who Knows - 27:27
21. Stephen Marley Feat Capleton & Sizzla - Rockstone - 28:51
22. Jah Sun & Kabaka Pyramid - Foundation (Swing Heavy Riddim) - 31:42
23. Delly Ranks - Put The Gun Away (Swing Heavy Riddim) - 33:42
24. Skarra Mucci & Teache Dee - Forward Inna Di Dance (Swing Easy Riddim) - 35:09
25. Demarco - Stay Inna Mi Lane (My Voice Riddim) - 36:14
26. Mackeehan - Who's Gonna Help Us (My Voice Riddim) - 37:41

27. George Dekker - Cant Give Up - 

39:25

28. Tanya Stephens - 140 Lbs Of Love - 

40:56

29. Tarrus Riley - Dem A Watch - 

42:56

30. Richie Stephens - Murda - 

44:48

31. Paolo Baldini Meets Richie Campbell Feat Mellow Mood - Likkle Dub Girl - 

46:25

32. Delly Ranks – Bring Back The Music (Love Quest Riddim) - 

48:35

33. Randy Valentine - Treat Her Right (Love Quest Riddim) - 

49:54

34. Exco Levi - Welcome The King (Love Quest Riddim) - 

51:18

35. I-Octane & Gentleman - It's All Right (Cane River Riddim) - 

53:17

36. Kabaka Pyramid - Never Gonna Be A Slave (Cane River Riddim) - 

54:46

37. Queen Ifrica - Make You Rock - 

56:37

38. Delly Ranks - Worldwide Love (Penthouse Riddim) - 

58:05

39. Collie Buddz - Nice Up Yourself (Penthouse Riddim) - 

59:30

40. Beenie Man - Survivor (Penthouse Riddim) - 

01:01:16

41. Burro Banton - Inna Mi League (Penthouse Riddim) - 

01:03:04

42. Gc - You Look Good (Take It Easy Riddim) - 

01:04:48

43. Screechy Dan - Raise Your Glass [Fi Di Working Class] (Take It Easy Riddim) - 

01:06:14


44. Red Fox - Right Pon Time (Take It Easy Riddim) - 

01:07:42


45. Busy Signal - Money Flow - 

01:09:50


46. Agent Sasco - Mix Up (Heaven Bless Riddim) - 

01:11:34


47. Johnny Osbourne & Screechy Dan - My Sound Stands Alone (Heaven Bless Riddim) - 

01:13:28


48. Cecile - No Pamper Mi - 

01:15:21


49. Ikaya & Shuga - Dat Nah Guh Work - 

01:16:26


50. King Kong - Nah Run No Joke (We Dem Fyah Riddim) - 

01:18:29


51. Skarra Mucci - Come Fi Take Ova - 

01:19:49


[/col]
real deal