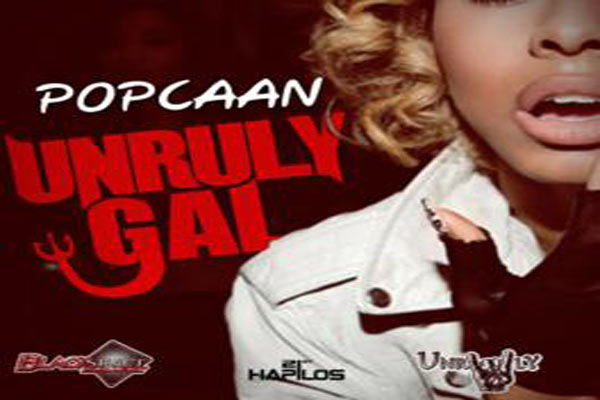 Digital distributor giants 21st Hapilos have revolutionized the entertainment industry through online distribution, keep delivering the hottest hits from the biggest and upcoming names in dancehall and reggae music.
Black Street Music
gives you
"Unruly Gal"
by chart topping Billboard Jamaican dancehall artist Popcaan.
Popcaan, whose viral and official videos have received above 3 million views on youtube has become a staple on the dancehall music charts. "Unruly Gal" is now out on iTunes via 21st Hapilos Digital clicking on the banner below.
Popcaan's Unruly Gal is the  young dancehall star anthem for Spring 2013.
In the song Popcaan, that calls himself Unruly, describe his type of gyal that has to be unruly as he is. Unruly Gal is a catchy new dancehall hit that is going viral, gaining a lot of airplays and ranking up thousands of views on youtube.
Already dubbed as one of Popcaan best dancehall reggae songs for 2013 and a Spring Break big tune this season, listen to Popcaan's hit song Unruly Gal, produced by Black Street Music below.
LISTEN TO POPCAAN NEW SINGLE – UNRULY GAL – BLACK STREET MUSIC



POPCAAN – UNRULY GAL – LYRICS
(Chorus)
Mi love gyal weh unruly
Unruly gyal mi waan
Bend over no Jessica
Meck mi bruise up deh pu**y yah
Gyal weh unruly
Unruly gyal mi waan
Bad behaving gyal mi waan so c**k up pon the dresser draw
(Verse 1)
Gyal wine pon the long map stick
From mi inna the dance mi dam c**kti
A the pu**y mi waan so don't act stiff
Mi naw give you some fu*k weh fantastic
Inna the house shi gwaan wid bay antics
An a paint up mi hood wid are lipstick
Oh God shi gimmi head gladly
This dam gyal done ungodly
(Repeat Chorus)
(Verse 2)
Mi love when gyal pin mi an seh a 3 sum time
Cool lock off so dem know mi need some time
Drink the vodka an go fi beat some time
Hey gyal grab mi hood an wine
Hold yo pu**y an bruise it up, bruise it up
Meck mi balls an yo teeth lick up
The gyal dem a black road
A protest fi black road
An in there mi fans meck mi hood lick up
(Repeat Chorus)
(Repeat Verse 1)
real deal