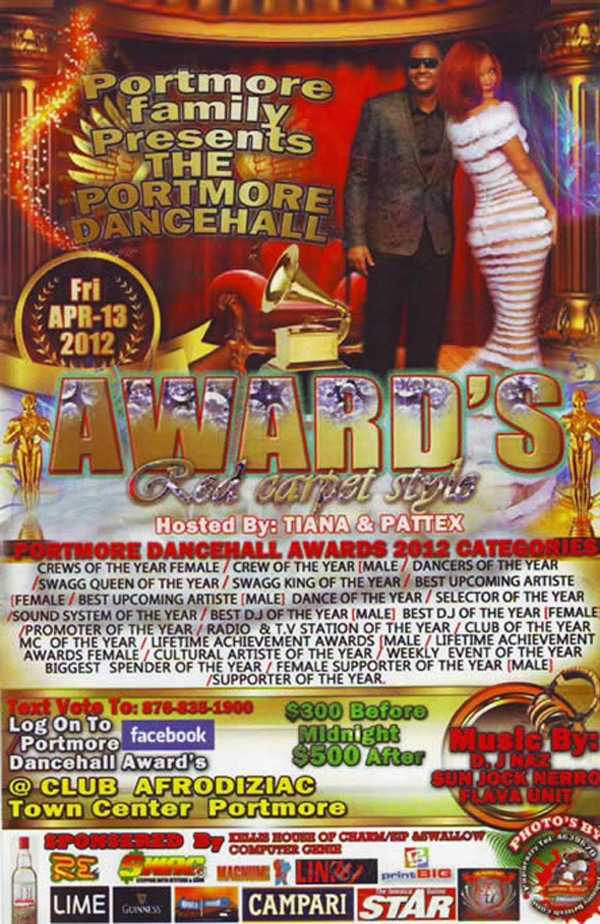 Portmore,Jamaica, land of talent.
Scheduled for the month of April the Portmore Dancehall Awards 2012 will be hosted by Tiana and Pattex, on April 13th at Club Aphrodisiac, located in Portmore Town Centre, St Catherine.
20 categories,maaad artists and with music by: DJ Naz, Flava Unit and Sun Jock Nerro!

.
Remember to cast your vote for your winner at 876-835-1900.
Here the nominees.


style="display:inline-block;width:728px;height:90px"
data-ad-client="ca-pub-5109320371512143"
data-ad-slot="8104699319">

Categories include Cultural Artist Of  The Year ,Radio & TV Station Of  The Year, Crew Of The Year (FEMALE & Male),Swagg Queen & King Of The Year, Dance Of The Year, Dancers Of The Year, Selector Of The Year, Sound System Of The Year, Best DJ Of The Year – Female & Male – and even Biggest Spender Of The Year
CREW OF THE YEAR (FEMALE)
STAR GIRLS
GOOD LIFE
WET WET
SKY GRADE
UP-SETTERS
CREW OF THE YEAR (MALE)
FRESH & CLEAN
FAMOUS STAR
TOP WEST
TOP STEPPERS
OXY CLEAN
BIG SPENDERS
CONGRESS CREW
TOP SWAGG
CHECKERS
AKADEMIKS
GOOD FELLAS
BIG LEAGUE
SWAGG QUEEN OF THE YEAR
ALECIA FACE-OFF
SPICE-GOOD LIFE
NADESHA STAR
KELLY UPSETTA
SHELLY WET WET
DIAMOND GOOD LIFE
TAMARA HOLLYWOOD
NACKESHA TOP WEST
MELISSA SKY GRADE
DAHLIA INDEPENDENT SWAGG
SWAGG KING OF THE YEAR
BANJO
KEVIN FASHION
CLEON FRESH & CLEAN
BRESKO FAMOUS STAR
FLOUSY LIFF
LOXEY THOMAS BIG SPENDER
FRESH CHECKERS
SASHI COOL
ADVANCE CHECKERS
MONEY G
YOUNG BLOOD (CHEKKAZZ)
BEST UPCOMING ARTIST (FEMALE)
SEKKLE DUNG WENDY
STYLYSH
LADI LUCKY

BEST UPCOMING ARTIST (MALE)

MASICKA
DENNO
ZABRICK
G-LOCK
FLOSSY
PULCA DAT
NUCLEAR

DANCE OF THE YEAR

DAHLIA INDEPENDENT SWAGG
KELLY UPSETTA
RUTHIE UPSETTA
CHECKAZZ
KEVIN FASHION
ALECIA FACE OFF
BLING
DIAMOND GOOD LIFE
SHELLY WET WET
ACKADEMIK
TWIGGY
FLOSSI AND MONEY G

DANCERS OF THE YEAR

CHECKAZZ
NEW CREATION
ALL-STARZ TRENDY SQUAD
R&G
BLACK PEARL
B-KOOL
AKADEMIKS
SELECTOR OF THE YEAR
BUMPY CASH
SIX KILLA
BLUE STEEL
BADDA BLING
HAMMA
MARLAND FRESH
EYE-T-NO
ALEX FRASS
SOUND SYSTEM OF THE YEAR
BLUE STEEL SOUND
INFINITY
SUPER T
FLAVA UNIT
QUANTUM
REFLEX
BEST DJ OF THE YEAR (MALE)
POPCAAN
BLACK RHYNO
SHAWN STORM
DEVA BRAT
VYBZ KARTEL
BEST DJ OF THE YEAR (FEMALE)
SPICE
STACIOUS
STYLISH
MACKA DIAMOND
LADY G
PROMOTER OF THE YEAR
KELLY UPSETTA
TAMARA HOLLYWOOD
RUTHIE UPSETTA
NADESHA STAR
DIAMOND GOOD LIFE
ALECIA FACE OFF
BLING
RADIO & TV STATION OF THE YEAR
U.V. RADIO
SUN CITY
UNIVERSAL VIBES
SWAGG TV
LINKS TV
PORTMORE CHANNEL
CLUB OF THE YEAR
KEN'S WILDFLOWER
COOKIE'S
APHRODIZIAC
VUL-K-NO
REV
MC OF THE YEAR
NUFFY
PRETTY BOY FLOYD
ELVA
BADDA BLING
FRESH
LIFETIME ACHIEVEMENT OF AWARD (MALE)
RICKY GENERAL
MEGA BANTON
MAD COBRA
RED DRAGON
TERROR FABULOUS
FRISCO KID
LIFETIME ACHEIVEMENT AWARD (FEMALE)
MACKA DIAMOND
LADY G
JUNIE RANKS
QUEEN PAULA
CULTURAL ARTIST OF THE YEAR
I WAYNE
I OCTANE
GUIDANCE
RAS GHANDI
PRESTIGE
BASCOM X
GYPTIAN
FYAKIN
WEEKLY EVENT OF THE YEAR
PARTY CUP
PRENDY'S ON THE BEACH
RUM RAM THURSDAYS
BANK'S WEDNESDAYS
CONGRESS FRIDAYS
BANGING MONDAYS
ZING FENCE FRIDAYZ
BIGGEST SPENDER OF THE YEAR
KELLY UPSETTA
LOXELY THOMAS & TOP SETTER
ROMIE
DRAGON
ANDRE DARBY
FLOSSI
DJ OFFICIAL
FAMOUS STARZ
FEMALE SUPPORTER OF THE YEAR
SPICE GOODLIFE
KELLY UPSETTA
DIAMOND
MARSHA RIDGIE
NADESHA
TAMARA HOLLYWOOD
SHELLY WET WET
MEL SKY GRADE
MALE SUPPORTER OF THE YEAR
BANJA
LOXELY THOMAS
FRESH & CLEAN
TOP STEPPERS
KEVIN FASHION
CHECKERS
VIDEO MAN OF THE YEAR
NIGHT RIDER
KEVIN NIGHT RIDER
YARD BEAT
VIDEO MACK
DESIGNER OF THE YEAR
BALLA SHAWN – NEW LAND
YANKI – WATERFORD
RICHIE DRENZ – INDEPENDENCE CITY
JOSEPH – BRIDGEPORT
KEVIN- PASSAGE FORT
TONY KRASH – CUMBERLAND
real deal