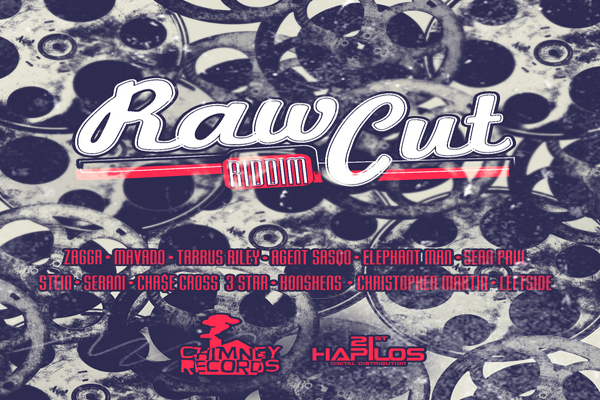 Listen to the newest Raw Cut Riddim from Chimney Records that features a super stellar line up of veteran artists delivering hits songs on it

.
Assassin aka Agent Sasco is one of the artist that took the riddim with Start War which is breath taking tune, Aidonia, Chase Cross and 3 Star with the hot new tune Soul Survivor and Chris Martin is also killing the riddim,
Voicing some of the hottest
dancehall songs of 2013
also
Konshens, Mavado, Elephant Man, Tarrus Riley, LeftSide, Sean Paul, Serani & more top jamaican recording artists voicing on Raw Cut
and all doing a great job and making this another big classic good riddim from
Chimney Records.
Stream or download the promo mix posted below and check the track listing, Raw Cut Riddim is a big dancehall reggae riddim, a must have for all the deejays and it's available on iTunes clicking on the banner on this page.
RAW CUT RIDDIM PROMO MIX



RAW CUT RIDDIM TRACK LISTING
01 – AGENT SASCO – START WAR (RAW)
02 – AGENT SASCO – START WAR
03 – AIDONIA – NEVER NEVER (RAW)
04 – CHASE CROSS & 3 STAR – SOUL SURVIVOR
05 – CHRISTOPHER MARTIN – GI YUH JOKE (JOOK)
06 – ELEPHANT MAN – WINE FI DI SUMMER
07 – KONSHENS – ANYWEH (GUN VERSION)
08 – KONSHENS – ANYWEH (PARTY VERSION)
09 – LEFTSIDE – WE DONT CARE (RAW)
10 – LEFTSIDE – WE DONT CARE (RADIO)
11 – MAVADO – BRUKOUT (RAW)
12 – MAVADO – BRUKOUT (RADIO)
13 – SEAN PAUL – DO DI TING
14 – SERANI – JUVENILE
15 – STEIN – FLING IT UP
16 – TARRUS RILEY – FEELING FREE
17 – ZAGGA – WORK FI YUH OWN
18 – CHIMNEY RECORDS – RAW CUT RIDDIM VERSION
real deal