Check out a new slamming riddim from Jamaica – Re-Entry Riddim. Produced by Markus Records' the brand new riddim comes packed with big Jamaican names and big tunes!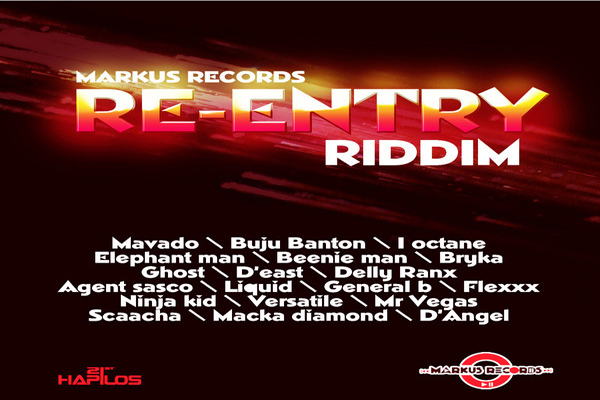 Markus Records "Re-Entry" riddim features a star studded line up of international billboard dancehall artists such as Mavado, 2 Grammy Award winners Buju Banton and Beenie Man, I-Octane, Elephant Man, Bryka, Ghost, D'East, Delly Ranx, Agent Sasco, Liquid, General B, Flexxx, Ninja Kid, Versatile, Mr.Vegas, Scaacha, Macka Diamond and D'Angel.
Distributed by digital giants 21st Hapilos Digital, "Re-Entry"riddim is available on itunes.
RE-ENTRY RIDDIM MARKUS RECORDS MAY 2013 – TRACK LISTING

 
01 – AGENT SASCO – DEH PAN DI HUSTLING
02 – BEENIE MAN – WOMAN A DI HOUSE
03 – BRYKA – JAH JAH WE PRAISE
04 – BUJU BANTON – INNA HALF
05 – D'ANGEL – BOOM RIDE
06 – D'EAST – DI HIGHEST
07 – DELLY RANX – YUH HAFFI BEAT DEM
08 – ELEPHANT MAN – PUSSY FI DI YEAR (RAW)
09 – ELEPHANT MAN – GOODY FI DI YEAR (RADIO)
10 – FLEXXX – DEM GYAL YAH (RAW)
11 – FLEXXX – DEM GYAL YAH (RADIO)
12 – GENERAL B – HUNGRY BELLY & HENNESSY
13 – GHOST – ALL NIGHT
14 – I OCTANE – TRY OFFA MI
15 – LIQUID – DARLING
16 – MACKA DIAMOND – NUH WALK WID STICK
17 – MAVADO – X RATED (RAW)
18 – MAVADO – X RATED (RADIO)
19 – MR VEGAS – DA SUM'N DEH
20 – NINJA KID – DAT MI LIKE
21 – SCAACHA – ALRIGHT INNA LIFE
22 – VERASTILE – BERE GYAL WE HAVE
23 – MARKUS MYRIE – RE-ENTRY RIDDIM VERSION
24 – G STARR – FLOSSING STAR
LISTEN TO RE-ENTRY RIDDIM MARKUS RECORDS MAY 2013 PROMO MIX



real deal