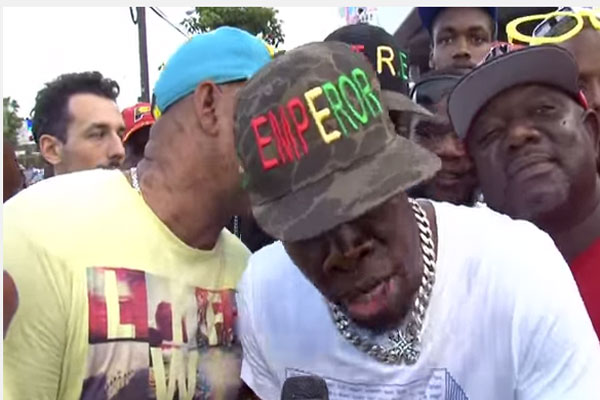 Legendary Jamaican Emperor Shabba Ranks went back to Jamaica last month to record some new musical material and, as during his previous trip, he dragged a huge crowd of followers went where ever he went on the island.
While on the island running some business and visiting family and friends, the superstar also found time to reason with popular host Winford Williams, this time not in the TV studio but in the streets. Check posted below the interview as well as the iconic artist's newest music.
LISTEN TO SHABBA RANKS – BIG TIME – GREATEST CREATION RIDDIM SHANE BROWN/ JUBOX PROD – MAY 2014
Winford Williams
 with
Onstage Tv
caught up with Shabba in the streets of Jamaica and  they reasoned together on Vybz Kartel's sentence and the current state of Dancehall Music.
Fans of Shabba can watch below Shabba Ranks the Emperor back In Jamaica interviewed by Winford Williams.
SHABBA RANKS BACK IN JAMAICA INTERVIEW BY WINFORD WILLIAMS – MAY 2014
real deal