Don't miss Tarrus Riley upcoming live Reggae show scheduled for Nov 3 in Hollywood Florida.

The Reggae star will bless the stage with his friends! Royal Line up!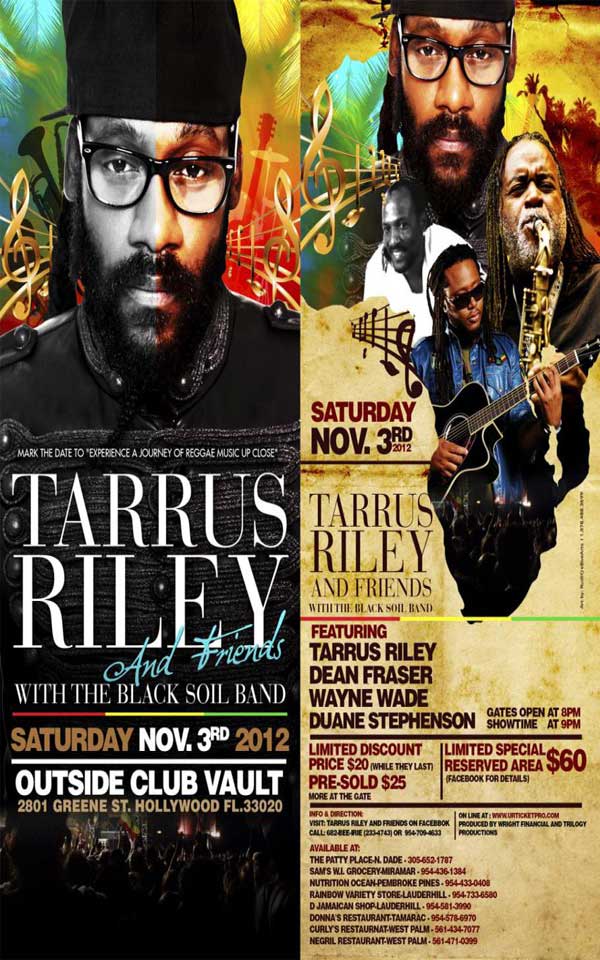 Roots Reggae and Award winning singer Tarrus Riley backed by the Black Soil Band will perform Saturday November 3rd at Outside Club Vault making his performance a first for Floridians in more than a year.
Riding the international wave of success Tarrus is having with his album, the newly released 'Mecoustic' on the Cannon Productions and the Black Soil imprint, the Roots Reggae artist is set to deliver hot new tracks as well as the classics which includes "Marcus Garvey," "She's Royal (Mecoustic)" and "System." These are all hit songs which fans have voted as favourites. 
Tarrus Riley - She's Royal – Official Video

[youtube width="640" height="344"]http://www.youtube.com/watch?v=qGuLqe-NMKg[/youtube]
Joining Tarrus on stage is legendary saxophonist Dean Fraser whose catalog includes work with fellow legendary producers Sly and Robbie, super producer Donovan Germaine, as well new talent Sherita Lewis. In addition, Tarrus will be joined by Duane Stephenson, the prolific Reggae singer whose songs "August Town," "Cottage in Negril" and "Black Gold" struck chords with listeners worldwide drawing more than a million video views on YouTube.
Wayne Wade, not a newcomer to the industry, is more popularly known for his hit singles "Love You Too Much" and "Lady." As a Roots Reggae singer Wayne is most known for his work with producer Yabby You.
"We're excited about this concert" said Gary of Trilogy Productions. "Tarrus will be performing with Black Soil Band and fans are excited." Dean Fraser adds that South Florida should get ready to "experience a journey of good Reggae music up close and for all to see."
Tarrus Riley – Tribute To Buju Banton, Live In Wembley – Oct 14 2012

[youtube width="640" height="344"]http://www.youtube.com/watch?v=FFCFeSUT078[/youtube]
Tickets are available at various outlets in South Florida (see flyer for details). Fans and media can stay up to date with Tarrus and his upcoming show by adding his Twitter timeline via @tarrusrileyja.
real deal