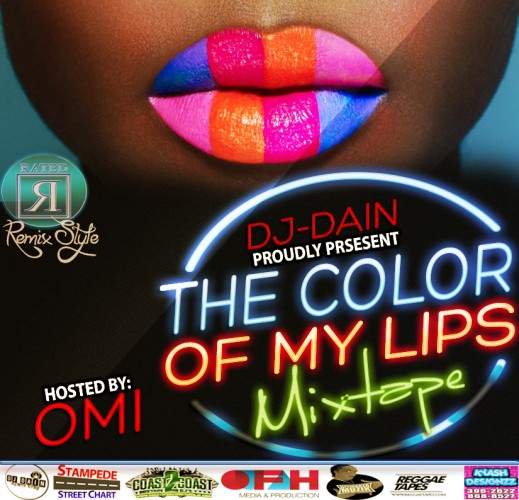 Let's salute December with a new Dj Dain Remix King, free to download or stream, reggae dancehall mixtape tr88 out of Jamaica and packed with all the latest reggae dancehall hit songs and the hottest artists trending right now in a rainbow of colors and  different music.
Mixed by DJ Dain & hosted by popular Jamaican recording artist Omi stream or download Colors Of My Lips Mixtape below, that takes the title from the Omi smashing hit with Busy Signal and make sure to check out the track listing posted that includes almost 80 reggae free dancehall songs and of course it features a lot of good Vybz Kartel songs as well as some unique Dj Dain remixes.
From Kartel, Alkaline, Chronixx, Omi,Sizzla, Demarco, Mavado , Tifa, Tiana some of the best artists from Jamaica are featured in this free mix and the list goes on and on and on.
DWNLD DJ DAIN COLOR OF MY LIPS MOBILE
STREAM OR DOWNLOAD DJ DAIN THE COLOR OF MY LIPS HOSTED BY OMI MIXTAPE
DWNLD DJ DAIN COLOR OF MY LIPS TRACKED
DJ Dain Colors Of My Lips Mixtape Track Listing
01. Omi ft Dj Dain – Intro
02. Omi ft Busy Signal – Colour of my lips
03. Chronixx ft Kabaka Pyramid – Mi Alright (dj dain Remix)
04. Melloquence – Ochi fi the holiday (dj dain Remix)
05. M2dh – Mr Fresh Freestyle (dj dain Remix)
06. Jason derulo Ft Juleen – Talk dirty (dj dain Remix)
07. Drake – Hold on we going home
08. Omi - Cheerleader (Ricky Blaze Remix)
09. Lil John – Bend ova dj dain mega mix
10. Trey Song – oh nana
11. Vybz kartel - Business (dj dain Remix)
12. Alkaline – Gyal Bruck Out (dj dain Remix)
13. Kid Ink ft Chris Brown – Show Me
14. Jackson 5 – ABC (dj dain Remix)
15. Alkaline – 123 (dj dain Remix)
16. Kranium – nuh body nah fi know (Remix)
17. Alkaline – Lonely (dj dain Remix)
18. Vybz Kartel – Georgina (dj dain Remix)
19. Alkaline – Little Harder (dj dain Remix)
20. Octane ft Tommy Lee – Bus A Blank (dj dain Remix)
21. Bounty Killa – Nuh fren fish (dj dain Remix)
22. Sizzla – Nuh apology (dj dain Remix)
23. Plies – F** or What
24. Vybz Kartel – You Mi Want (dj dain Remix)
25. Ward 21 – Rhyme (dj dain Remix)
26. Ariana Grande - Problem
27. Alkaline – Everyday (dj dain Remix)
28. Vybz Kartel – Mirror (dj dain Remix)
29. Vybz Kartel – Any Man Whe Snack (dj dain Remix)
30. Nicki Minaj - Boss A$$
31. Alkaline – My Life (dj dain Remix)
32. Beenie Man – Hard To Smile
33. Demarco – Royal (dj dain Remix)
34. Jinyus – Dem Nuh Know (dj dain Remix)
35. Skit- From The Outside
36. Mavado – Step (dj dain Remix)
37. Alkaline – Ready (dj dain Remix)
38. Alkaline – Wul The Claffy Dem (dj dain Remix)
39. Nicki Minaj – Looking A$$ Nigga
40. Vybz Kartel – Compass (dj dain Remix)

41. Vybz Kartel - Miami Vice Episode (dj dain Remix)
42. Baby Cham ft O – Tun Up (dj dain Remix)
43. Nicki Minaj – Pills And Potions
44. Busy Signal – Hustlers Anthem
45. Iggy Azalea – Fancy
46. Chronixx – Odd Ras (dj dain Remix)
47. Ty Dolla – Paranoid
48. Zagga – I Wish (dj dain Remix)
49. J-Capri – Boom n Bend Ova (dj dain Remix)
50. Jeremih ft Yg – Don't Tell Em
51. Kid Ink Chris Brown – Main Chick
52. Samantha j – Tight Skirt Mashup Remix (dj dain Remix)
53. Denyque ft Chris Brown, Lil Wayne – Loyal (dj dain Remix)
54. Usher - Good Kisser
55. Mr Vegas - She's a O (dj dain Remix)
56. ElePhant Man – Bang Bang (dj dain Remix)
57. Jr Gong Ft Drake & Lil Wayne – Believe me (dj dain Remix)
58. Busy Signal – How Wi Do it (Willy Chin Remix)
59. Aidonia – Don Deh Ya (dj dain Remix)
60. Skytta Blyng – Lyrical Boss (dj dain xxclusive freestyle)
61. Vybz Kartel – Look Woman (dj dain Remix)
62. Future ft Pharrell & Pusha T – Move That Doh
63. Nicki Minaj – Anaconda
64. Kalado – Personally (dj dain Remix)
65. Dj Dain – Booking Info
66. Venom Legacy – Born Poor(Affi Get Rich)
67. Tifa – Out Of This World (Clean)
68. Mavado – Tie Yuh (Clean)
69. Vybz Kartel – Tun Back Way (Clean)
70. Skin to skin Riddim – Hitmaker Muzik
71. Hitmaker – Body Calling
72. Kalado – Stimulte
73. R.D.X – Wurla Glue
74. Jah Vinci – Give it to me
75. Gage – Bun fi bun
76. Tiana – So Sexy
77. Tiana – Batty Rider
78. Tiana – Balance pon mi head
79. Hitmaker – 9 months
real deal