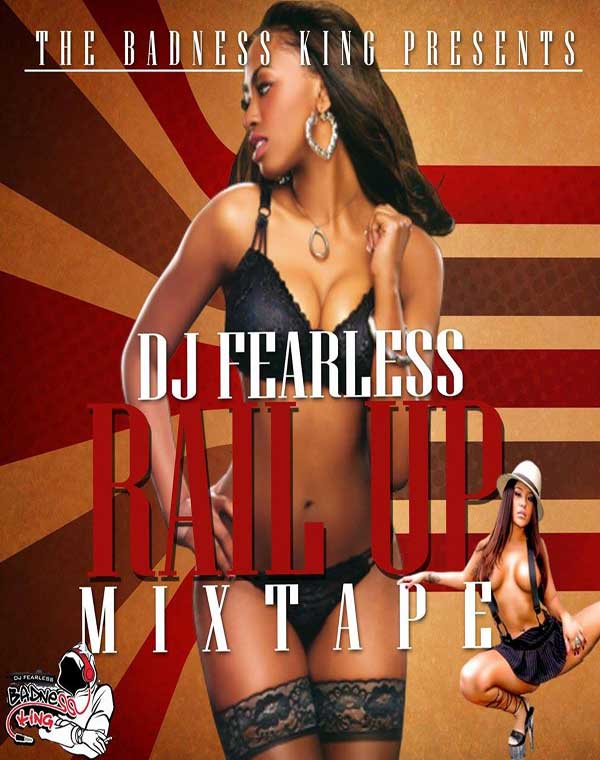 Stream or download the latest DJ Fearless Dancehall Mixtape titled Rail Up including some of the latest dancehall hits  and newest riddims in Dancehall Music.
Rail Up Mixtape from DJ Fearless aka The Badness King from UK features as usual a well balanced selection of dancehall newest hits and hottest songs released lately by Vybz Kartel Demarco, I-Octane, Mavado, Tommy Lee, Alkaline, Blak Ryno, Assassin, Kiprich, Konshens and more in mp3 format and free to download.
Stream, download and check the track listing posted below.
STREAM OR DOWNLOAD DJ FEARLESS – RAIL UP – DANCEHALL MIXTAPE- DEC 2014
DWLD DJ FEARLESS RAIL UP MIXTAPE
DWNLD DJ FEARLESS RAIL UP MOBILE
DJ FEARLESS – RAIL UP – DANCEHALL MIXTAPE TRACKLIST
1. G Starr & Nefatari - Rail Up
2. Patexx - Feel Right
3. Demarco – Text Back
4. Vybz Kartel – The Supervisor
5. Tanso – Pat Up Yuh Pussy
6. Vybz Kartel – Man Straight
7. Mavado – Dem Nuh Man
8. Vybz Kartel – Mi Nuh Trust People
9. Demarco - Bun Up Road
10. I-Octane – Gyal Ting
11. Alkaline – A Bagga Tings
12. Mavado – Nah Use Dem
13. Vybz Kartel & Keshan – Kill Or Die
14. Mr G & Blak Ryno – Badmind Can Gwan Talk
15. I-Octane - Killa
16. Agent Sasco – Way Up
17. Bugle - Nah Fight Fi Nuh Gal
18. Mr G – One Good Girl
19. Rayonne Hype – Deya
20. Mavado – Kite Style
21. Kiprich – Money Mek Yu Bad
22. Blak Ryno – Walk Street
23. Assassin – Gansta Nah Run
24. Charly Black – War Start
25. Bounty Killer & Beenie Man – Legendary
26. Tommy Lee – Crow Open My Eyes
27. Tanso – Beretta A Beat
28. Mr Vegas – Gwaan Yaa
29. I-Octane – Teeth & Lip
30. Iyara – Nuh Cross Ova
31. Stein – Guh Fi Dem
32. Demarco – Lime Chip
33. Konshens – Flick
34. Demarco – Fool Fool Gangsta
35. Deablo – Everyting Govern
36. Aidonia – Lightening
37. Vybz Kartel - Box Lunch
38. Alkaline – One Inna Dem Head
39. Versatile – Gal Pon Him Head
40. Mavado – Clear D Way
41. Tommy Lee – No Enemy
42. Gully Bop Aka Country Man – Pussy Specialist
43. Tenza & Navino – Hood Fyah
44. Masicka – Call Me
45. Popcaan – Number One Freak
46. Vybz Kartel – Drink Up
47. Mavado – Hotter Than Bread
48. Vybz Kartel – A Bay
49. Jayds – Be With You
50. Kalado – Gangsta Love
51. Hitmaker – 9mths
52. Onirose – These Panties
53. Kim Kelly – I Want U
54. Tommy Lee – Ryda
55. Tony Matterhorn – After Dark
56. I-Octane – Star Boi
57. Agent Sasco – Bad Man Ting
58. Mavado - Sick Like Flu
real deal