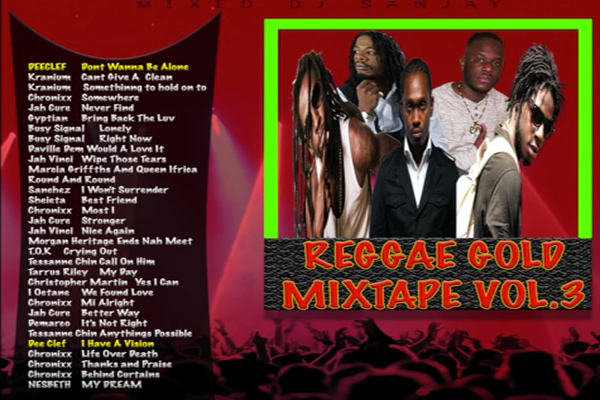 Start the new year with the sweet sounds and melodies of some of the best latest reggae songs & Jamaican artists featured in Reggae Gold Mixtape Vol 3.
Mixed by DJ Sanjay Tv - Reggae Gold Mixtape Vol 3 features some of the best reggae artists of our time and their popular reggae anthems including Chronixx, Gyptian, Kranium, Jah Cure, Busy Signal, Daville, legendary and iconic Marcia Griffith & Queen Ifrica, Jah Vinci, Morgan Heritage, T.O.K., Tessane Chin, Tarrus Riley, Christopher Martin, Sanchez, I-Octane & many more top Jamaican reggae artists.
The mix is getting popular and ranking up a lot of re-plays. Check the full track listing posted below and stream this reggae mixtape 2017 full of good vibes below.
For downloading DJ Sanjay TV wants some PayPal money so click on the youtube link and you will find all the info to grab the download, otherwise just stream it for free below so to check out the latest and biggest songs coming out of Jamaica for January 2017. 
Stream Reggae Gold Mixtape Vol.3 (January 2017) – DJ Sanjay Tv – January 2107
Reggae Gold Mixtape Vol.3 (January 2017) Track Listing
DEECLEF – Dont Wanna Be Alone Kranium – Cant Give A Clean KRANIUM – SOMETHING TO HOLD ON TO Chronixx – Somewhere Jah Cure – Never Find GYPTIAN – BRING BACK THE LUV Busy Signal – Lonely Busy Signal – Right Now Daville – Dem Would A Love It JAH VINCI – WIPE THOSE TEARS Marcia Griffths And Queen Ifrica – Round And Round Sanchez – I Won't Surrender Sheieta – Best Friend Chronixx – Most I Jah Cure – Stronger Jah Vinci – Nice Again Morgan Heritage – Ends Nah Meet

T.O.K – Crying Out
Tessanne Chin – Call On Him
Tarrus Riley – My Day
Christopher Martin – Yes I Can
I Octane – We Found Love
Chronixx & Kabaka Pyramid – Mi Alright
Jah Cure – Better Way
Demarco – It's Not Right
Tessanne Chin – Anythings Possible
Dee Clef – I Have A Vision
Chronixx – Life Over Death
Chronixx – Thanks and Praise
Chronixx – Behind Curtains
NESBETH – MY DREAM
real deal