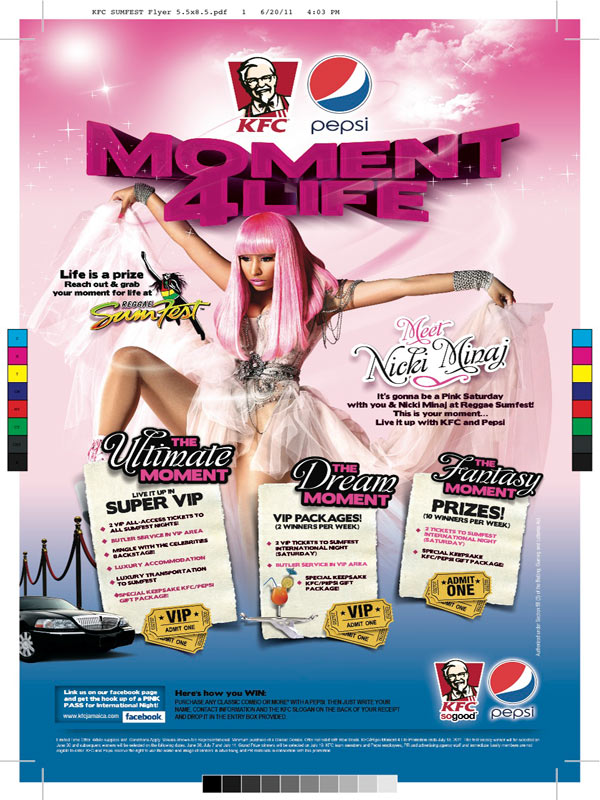 Unluckly american R'N'B singer R Kelly won't be able to perform at Sumfest in Mobay.The 44 year-old R'n'B artist, whose real name is Robert Kelly, was in severe pain and was rushed to a Chicago hospital on Tuesday where an abscess on one of his tonsils was drained, according to a statement from the singer's spokesman Allan Mayer.
R Kelly won't make it to Reggae Sum Fest for health reasons and the organizers wish him the best recovery and are now looking into several options and seeking replacement in such a short notice.Reggae Sumfest kicked off last Sunday night (July 17) with a beach party and continues tonight through Saturday with the main festival nights at Catherine Hall in Montego Bay. International superstar Nicki Minaj will be joined by Beres Hammond, Jah Cure, Vybz Kartel, Mavado, Half Pint,Bounty Killer and  more acts on the world-class stage of Reggae SumFest 2011.
Mobay hotels are packed with more than 6000 visitors so this festival is still attracting turists from all over the globe and boosting up a bit the economy which is very good.This year the festival is going really strong ,the line up just really misses Shabba Ranky which the festival couldn't afford but they will try again next year..It's also the first Sumfest for Jah Vinci ,going strong in his solo career.Check out this video and feel the hype and the buzz about this legendary Festival in Montego Bay.
[youtube width="640" height="344"]http://www.youtube.com/watch?v=L_zv7qR2PIg[/youtube]
real deal