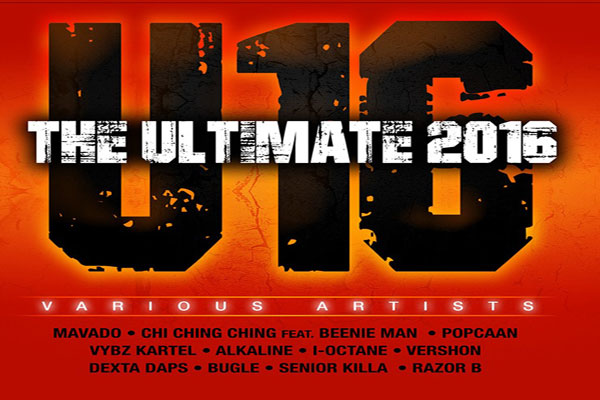 style="display:inline-block;width:468px;height:60px"
data-ad-client="ca-pub-5109320371512143"
data-ad-slot="5048973713">


Tad's Record Announces the Release of The Ultimate 2016: Your Ultimate Provider of Dancehall for 2016
Tad's Record has 'Kick Out' its flagship chart topping various artists' compilation, 'The Ultimate 2016' and the veteran record label has scored. Fitting words cannot describe the skilful selection presented on this collection of the most bubbling songs of 2015.
Tads Records The Ultimate 2016 Dancehall Best Songs
The fervent Dancehall enthusiast is always trying to find the hottest dancehall hits that will be at the top of every DJ's set list and here it is; an album with the hottest songs that everyone will be singing and dancing to in 2016.
Executively produced by industry veterans Tad Dawkins and Tad Dawkins Jr., The Ultimate 2016 features artists such as Beenie Man, Dexta Daps, Vybz Kartel, Alkaline, Mavado, Vershon and many more.
The Ultimate 2016 brings together the Happy Hour, Liquor and Fix Up Riddims, along with songs that ensures the ladies are left feeling 'Hot Up' while dancing and vibrating to the chart topping singles such as '7 Eleven' by new sensation Dexta Daps with his party anthem for 2015.
The music fraternity and avid fans will view this sensational album as an irrefutable masterpiece.
Tad's Records The Ultimate 2016 Preview
The track list for The Ultimate 2016 is as follows:
1. Way Up Stay Up – Chi Ching Ching ft. Beenie man & Popcaan
2. Mi Nuh Trust People – Vybz Kartel
3. Party – Vybz Kartel
4. Up – Alkaline
5. One Life – I-Octane
6. Inna Real Life – Vershon
7. 7 Eleven – Dexta Daps
8. Woie Woie – Senior Killa
9. Hot Up – Razor B
10. Up Like 7 – Mavado
11. Fix UP – Vybz Kartel
12. Dem A Go Dead – Alkaline
13. Bad Anytime – Mavado
14. Bad Man Laws – I-Octane
15. Got A Lot of Love – Bugle
Tad's Records Inc. "The Ultimate Reggae Xperience" is a Jamaican based record production and publishing company. With over thirty years in the business, Tad's has become a leading powerhouse in the Reggae/Dancehall industry. With its main office located in Miami, Florida, Tad's is able to continue pushing Reggae and Dancehall music not only in the American market, but also worldwide.
real deal