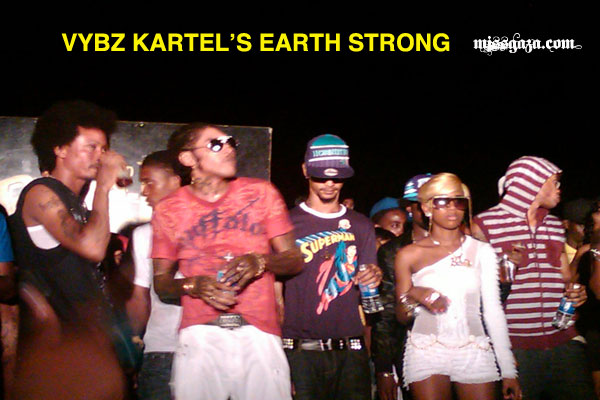 Today, January 7 2012, is

Vybz Kartel'

s

- di

World Boss Birthday!


Mr Adidja Palmer was born January 7 1976 in Kingston, Ja, today he turned 36 years old.
Mr Palmer, The Lyricist, The Dancehall Hero,The Outlaw, is a full time  Dancehall superstar currently languishing in a Kingston jail cell, waiting to return to the Corporate Area R-M Court on January 9 with Gaza Slim aka Vanessa Bling – Saddler. Vybz Kartel and Gaza Slim are facing together allegations of perverting the course of justice, a charge that attracts a sentence of over five years. These latest charges are related to the even more serious murder charges pending on Kartel and members of his entourage  since the beginning of October 2010, when he was initially arrested in a Kingston's hotel room together with other people and, was kept in police lock for ganja charges.
In the following days and months a lot of surprises, mysteries ,u turns, more arrests and more accusations, including Shawn Storm's arrest, another prominent member of the Empire,until Gaza Slim's latest arrest dated December 2011.
2011 is been a crazy year for di Gaza Boss and the whole Empire.
Check out Vybz  Kartel's re-caps for 2011.
Toward the end of 2010 Vybz  Kartel traveled  to Europe for a successful mini tour with Popcaan and Jah Vinci. During the entire 2011  Vybz Kartel's fame and notoriety grew exponentially, worldwide .
- January 2011 some people thought he brought his cake soap concept too far. Beside the controversy generated from his single Cake Soap the DJ was elected Caribbean Artist of 2010 and Selector's Choice Award for 2010 too. He also released a hot collaboration with prominent rapper Eminem. Clark mixtape was so successful, after few months of being released digitally , that TAD'S Records went from digital to physical, but Vybz Kartel wasn't in the news just for his tunes.
Vybz Kartel – Eminem – WTP

 [youtube width="640" height="344"]http://www.youtube.com/watch?v=vmenvFSn4TE[/youtube]
– Febraury 2011 Vybz Kartel made the news again, this time it was reported that he was banned from US radios for Black History Month because of his bleaching habit. In the same month Gaza Kim went Alliance and Kartel brought home 4 Awards from View Youth Awards 2011, one with Russian for Best Collaboration of 2010. He kept releasing hot singles and topping charts and airwaves from the beginning of the year non stop, and was featured in several TV and radio interviews as well as magazines both in Jamaica and internationally.
Vybz Kartel and Russian Awarded at YVA

[youtube width="640" height="344"]http://www.youtube.com/watch?v=yg8BBK0OiL4[/youtube]
– March 2011 Addi di Teacher went to Kingston University for a Lecture proving that the The World Boss was also a Smart Man, and he could Teach. March brought more Awards in the Gaza Vybz Kartel won Deejay of the Year, Song of the Year (Dancehall) — Clarks, Album of the Year, and Collaboration of the Year for Clarks, featuring Popcaan and Gaza Slim at the EME Awards.
real deal