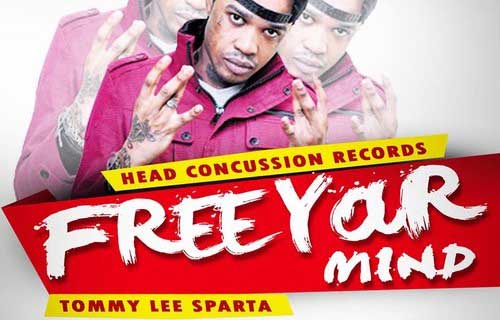 Jamaican Dancehall star Tommy Lee dropped a couple of new hot music singles, one titled "Chop Chop," off the BillBoard Riddim, produced by Free Willy Music/Arthur Whale and another one "Free Your Mind" produced by Rvssian's Head Concussion Records.
Listen to both Sparta's new songs below and support Jamaican music, artist and producers getting the song on iTunes clicking on the banner on this page.
Jamaican gothic dancehall artist Tommy Lee Sparta,

real name Leroy Russell, from Flankers, near Montego Bay, launched his music career as one of the latest addition to Vybz Kartel's Portmore Empire. Was World Boss himself than, back in 2010, introduced Sparta to the music scene with his debut single "Warn Dem" that attracted a lot of attention on the new comer.
Since Vybz Kartel disbanded his Portmore Empire camp Tommy Lee Sparta has been pursuing a solo music career and launched his own music label Guzu Music also becoming popular for his other monikers as Uncle Demon and Spartan Soldier.
Check the full lyrics for Tommy Lee Sparta latest single "Chop Chop" posted in full, after the audio stream.
LISTEN TO TOMMY LEE SPARTA – FREE YOUR MIND – HEAD CONCUSSION RECORDS JAMAICAN DANCEHALL MUSIC 2014
TOMMY LEE SPARTA CHOP CHOP JANUARY 2014
TOMMY LEE SPARTA CHOP CHOP LYRICS
(Verse 1)




Mi full a gun just like arena




Mi gun just laugh like hyena




Me gone when I return




Shoot up the news man weh a meck the media




Sparta, yow! Weapon dem wi burn down in yah




The fire meck like the encyclopedia




Gunshot open up yo head like yo gyal pum, pum




Run in a yo house and meck hi go so boom




Rise up the kalacash, kalacash, coom




A wa do dem bowy deh yo mussi waan dead




2 pop buss one in a him head




badder than Taliban, madder than any man




Sicker than the bomber dem from over Afghanistan




Dem seh mi a demon, call down legion




Somebody a go dead
(Chorus)
Straight to the meat shop chop, chop, chop
Meck the blade go chop, chop, chop
Bwoy feel the wrath a the steel when the blade start cut
And scream when the body pass track
Any bowy dis my link haffi drop
Watch yo back, back, back, back, back
Rusty wheel up the mack 11 in a yo head top
Meck yo brain just a drop, drop, drop
(Verse 2)
Meck mi show unuh how fi treating
Meck mi fell like watch the feefing
Chop him up, chop him up fine
Down a River Ton mi meck the alligator dem eat him
From a war mi seeking
Any bwoy violate grim deh eat him
Budu dop dem liek drum wi beating
Dead body open today
real deal