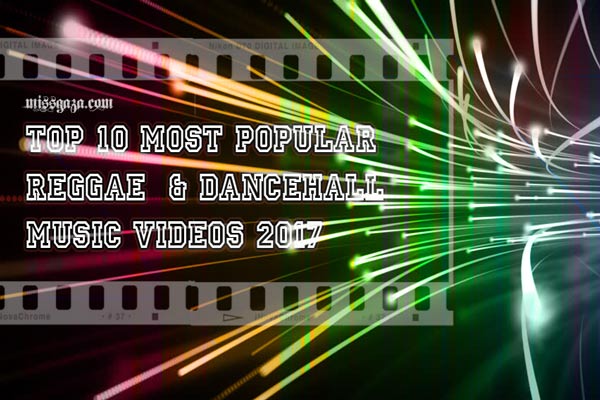 Check out posted below a list of the Top 10 MOST POPULAR Reggae and Dancehall Music videos for this year 2017, that made the round in Jamaican music as well as around all over the world ranking up millions over million of views.
Starting from #10 check out the count down of the Top 10 most viewed, played, sang along and danced along music videos and singles of the year.
Can you guess who took the #1 spot? Turn to the next page at the bottom to discover the most popular reggae dancehall music videoc of this year. Let's start with #10
#10 Bunji Garlin- Big Bad Soca
'Big Bad Soca'

, directed by Tom Swindell, embodies the pride and joy of carnival and the islands. The video includes candid scenes of Trinidad Carnival along with stunning studio shots of beautiful masqueraders and dancers. The track was featured on his album, "Turn Up" which was released September 1st.
WATCH BUNJI GARLIN BIG BAD SOCA OFFICIAL MUSIC VIDEO
#9 Mista Savona – 'Carnival' feat. Solis & Randy Valentine
VP Records/17 North Parade released "Havana Meets Kingston" in the Fall. Produced by Australia's leading reggae and dancehall producer Mista Savona (aka Jake Savona), 'Havana Meets Kingston' is the first full-length project to present the blended sounds of Cuba and Jamaica supported by an all-star cast of musicians.
The music video for 'Carnival' featuring emerging Cuban artist Solis and Randy Valentine, features the artists driving through their respective neighborhoods.
WATCH MISTA SAVONA CARNIVAL FEAT. SOLIS & RANDY VALENTINE OFFICIAL MUSIC VIDEO
#8 Queen Ifrica ft. Damian "Jr. Gong" Marley- Trueversation
The first single off Queen Ifrica's "Climb" is "Trueversation" featuring Damian "Jr. Gong" Marley. Directed by Antwan Smith and shot in Miami's Wynwood Arts District in November 2016, the single signifies an authentic male/female dialogue.
WATCH QUEEN IFRICA FEAT. DAMIAN JR GONG MARLEY TRUEVERSATION OFFICIAL MUSIC VIDEO
#7 Jah Cure- Telephone Love
Directed by Justin "Jus Bus" Nation and Anderson "ATA" Andrew, the stunning visual includes drone shots of the lush Antiguan landscape while Jah Cure rides the open roads with his lady of interest with an antique telephone in his hand. Without taking himself too seriously, he playfully dances in front of a classic British red telephone booth while singing along to the smooth melodic rhythm that the song remits.
WATCH JAH CURE TELEPHONE LOVE OFFICIAL MUSIC VIDEO
#6 Romain Virgo – Now
Filmed in Irish Town and Hope Gardens in Kingston Jamaica, the video, directed by

Ruption Design Studio

perfectly matches the songs playful cat and mouse lyrics.


'Now'

begins with Romain rescuing his love interest from a rain storm, as the attraction continues to grow, he offers to take her to his end of town. She resists, but ultimately takes him up on his offer. They end up at an outdoor party where Romain makes a very public declaration, that she is his girlfriend "now."
WATCH ROMAIN VIRGO NOW OFFICIAL MUSIC VIDEO
#5 Macka B – Cucumber Remix
The viral success of his single 'Cucumber' prompted a mash-up remix with Drake's "Passion Fruit" and a repost by model Naomi Campbell and actress/ recent AMA host Tracee Ellis Ross which elicited a comment Beyonce's mom, Tina Knowles. The first single off his latest album, "Health is Wealth", 'Cucumber' is a Health Eating Anthem that has the rhythm and the melody to make any health conscious person excited about music that reflects their life style.
WATCH MACKA B CUCUMBER OFFICIAL MUSIC VIDEO
real deal