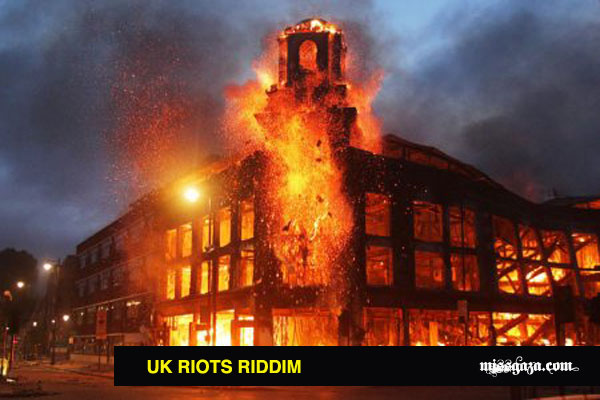 Listen to Uk Riots Riddim, which voices the concerns and worries about our society and all the social problems the modern urban living can bring. Deep lyrics on a very cool new reggae riddim from UK to vibe with.
Couldn't skip this riddim inspired from last summer UK's riots. It comes from England and it's called – UK Riots Riddim. Voicing on it some reggae songs of protest and social consciousness Sweetie Irie, Aqua Livi & Valorous. It will soon also be pubblished on 12″ VINYL from Reality Shock  -
Reality Shock is a UK based record label, studio and booking agency representing several of the UK's leading reggae artists established in 2004. Uk Riots Riddim is one of their latest projects. Big Ups!
Tracklist
A1: SWEETIE IRIE – UK RIOTS
A2: UK RIOTS VERSION
B1: AQUA LIVI – RIOTS IN THE STREET
B2: VALOROUS – NEVER THAT
LISTEN TO UK RIOTS – SWEETIE IRIE, AQUA LIVI & VALOROUS (REALITY SHOCK 2012)
Preview and download here!

real deal