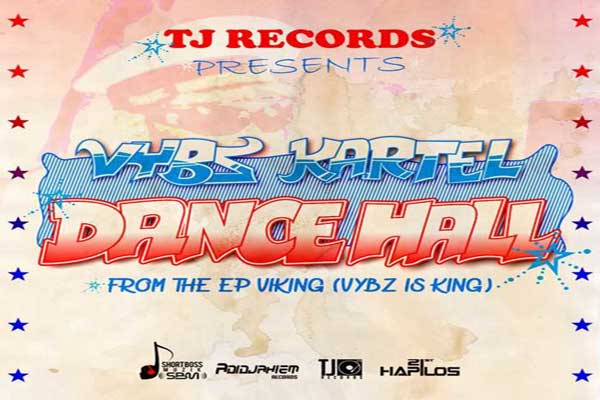 Among the incredible and timeless new songs from incarcerated Dancehall superstar Vybz Kartel aka Addi Innocent aka World Boss there's one of his latest single titled "Dancehall"
Produced by TJ Records and co-signed by Short Boss Muzik (owned by Kartel's baby mother Shorty) the latest Kartel's single is distributed by 21st Hapilos Digital.
"Dancehall" is already becoming a new classic, another anthem from World Boss, a tune that celebrates Dancehall Music to its essence with a hint of soca in the loop.
CLICK HERE TO STREAM MORE SONGS FROM VYBZ KARTEL NEW ALBUM – VIKING – THAT DROPPED MARCH 10TH
The latest single "Dancehall" is included in Adidja Palmer Vybz Kartel's latest Ep "Viking – Vybz Is King". produced by TJ Records.
While dj can download the – for a short amount of time – the full zipped promo for Kartel Dancehall below, once the download expires you can still get it on iTunes clicking on the banner on top of this page.
Check the lyrics fro Vybz Kartel's -Dancehall, posted on the bottom.

VYBZ KARTEL ADDI INNOCENT- DANCEHALL- TJ RECORDS – FEB 2015
VYBZ KARTEL ADDI INNOCENT – DANCEHALL – LYRICS
(Intro)
Dancehall a mi everything
Dancehall a mi everything
Dancehall a mi everything
(Verse 1)
Junglelist
Willy bounce, willy bounce yeah
Every bad man and every tugs yeah
High grade wi a buzz yeah
F**k up the place suh the rum seh
Gyal, you look better than Beyonce
Gyal a pree you, mi baby wa do da dunce deh?
Mi a the oxygen fi yo lungs yeah
Meck yo pum, pum, speak in a tongues yeah
(Chorus)
Dancehall cyaa stall forever and ever
Dancehall cyaa stall
Dancehall cyaa stall forever and ever
Dancehall cyaa stall
Dancehall cyaa stall
Dancehall cyaa stall
Dancehall cyaa stall

(Verse 2)
Dancehall cyaa dead yeah
Gyal haffi go spin pon dem head yeah
Fashion and style haffi set yeah
Star haffi born wa yo check seh
Mi a rub on mi bleaching cream yeah
Si mi in a POrtmore scheme yeah
Haffi have rum fi the team yeah
Tell everybody seh a free fi come in yeah
(Repeat Chorus)
(Verse 3)
Gyal come fi the act
Mi slap you like a door mi a lock
If a baby you want mi have a top snack
Boy baby a when you get a back shot
Girl baby a when you get a lap, lap
Gyal yo tight nuh babes
Flop a rat trap
Lobster mi bake wid a likkle lop top
Tek dance state and you haffi hot, hot

real deal