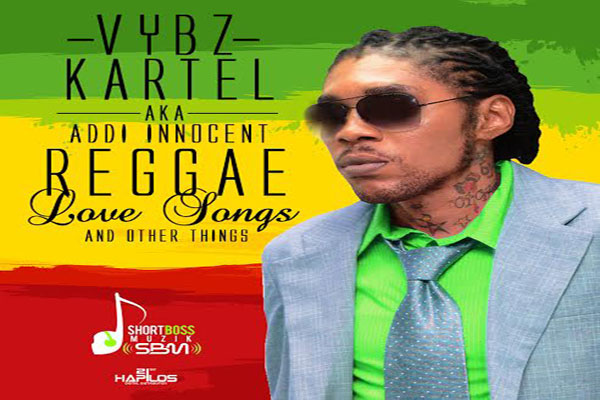 For many reasons and musical contributions, Vybz Kartel name is forever embedded in the history of dancehall music, because "music cannot be imprisoned".
Surrounded by a great team of music producers, and a strong digital distribution company, Short Boss Muzik label presents a compilation of Vybz Kartel aka Addi Innocent softer side with "Reggae Love Songs & Other Things".
The new Vybz Kartel album features fourteen singles produced by acclaimed billboard chart topping producers TJ Records, renowned billboard producer So Unique Records, Bigga DonDon and Short Boss Muzik.
Distributed by digital giants 21st Hapilos Digital, "Reggae Love Songs & Other Things" will be available on itunes June 3rd, 2014 but will be available for pre-order May 13th, 2014.
LISTEN TO  VYBZ KARTEL GUEST HOUSE  2014
LISTEN TO VYBZ KARTEL LOUIE V
VYBZ KARTEL ADDI INNOCENT REGGAE LOVE SONGS AND OTHER THINGS TRACK LISTING
 1. VYBZ KARTEL -  Can't Call This A Love Song
2. VYBZ KARTEL -  Miami Vice Episode
3. VYBZ KARTEL – Crashing Head On
4. VYBZ KARTEL - Downtown Kingston
5. VYBZ KARTEL -Love Mummy Featuring PG 13 (Little Addi & Little Vybz)
6. VYBZ KARTEL - Pretty Little Bunny
7. VYBZ KARTEL - Guest House 
 8. VYBZ KARTEL My Love My Love
9. VYBZ KARTEL Money Can't Buy Fren
10. VYBZ KARTELDon't Lie featuring Keshan
11. VYBZ KARTEL Without Money
12. VYBZ KARTELAddi Truth
13. VYBZ KARTEL . Louie V (Don't Worry Bout Dem)
14. VYBZ KARTEL Make Up Break Up
real deal